25-34 year old woman treated with Breast Implant Revision - 275cc to 400cc
*Treatment results may vary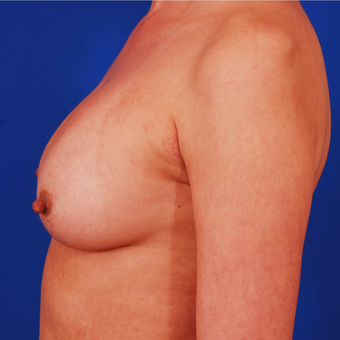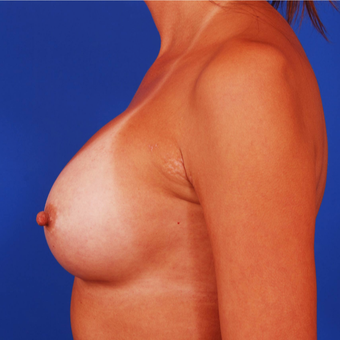 Was this photo helpful? {{ voteCount + ' other' + (voteCountOthers == 1 ? '' : 's') }} found this helpful
This patient had a previous saline breast augmentation (275cc implants below the muscle). She wanted larger implants and a change to the silicone variety.
She is seen here with 400cc high profile anatomic implants in the same submuscular pocket. The anatomic breast implants are tear drop shaped and textured (rough surface).
Anatomic implants were designed to be firmer, non-mobile and with improved rupture rates compared to traditional silicone implants. They are tear drop shaped and offer benefits in properly selected patients. They clearly are firmer than the normal silicone implant and they are designed not to move on the chest. The rupture rate is not that different compared to traditional silicone implants. They can rotate and change the shape of the breast – that is why they are textured and designed to be more "stuck" to the chest as opposed to smooth walled implants.
Anatomic implants are not as popular as smooth silicone round implants for reasons that are not entirely clear to me. They work quite well in the right patient. I can only imagine that if patients search the Internet about these devices, they are reading information that isn't as favorable for whatever reason. If someone is wanting a more tear drop shape, if they feel inclined to enjoy the benefits of these "gummy bear" breast implants, they are a fine choice.
The best candidates are those patients who have symmetrical breasts with minimal to no sagging of the breast. Those who have marked breast or chest wall asymmetries aren't good candidates.