35-44 year old woman treated with Tummy Tuck
*Treatment results may vary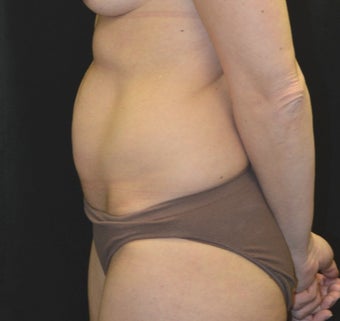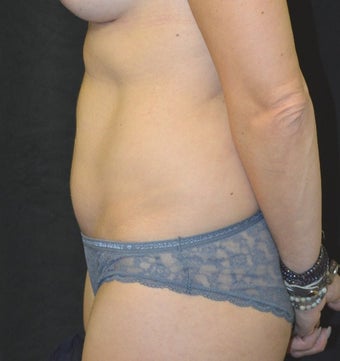 Was this photo helpful? {{ voteCount + ' other' + (voteCountOthers == 1 ? '' : 's') }} found this helpful
This 41 year-old woman carried four large babies during pregnancy. She was left with extra skin and fat within her lower abdomen and flanks. Although she was a candidate for a tummy tuck alone, by undergoing liposuction of her flanks the overall appearance and shape of her torso was much improved. She therefore underwent a mini-abdominoplasty (mini tummy tuck) as well as flank liposuction.
The difference between a mini-abdominoplasty (or mini tummy tuck) and a full abdominoplasty (full tummy tuck) differs widely depending on the particular surgeon queried. There is no universally agreed upon definition for each of these operations. Dr. Davidson does not believe in performing a cookie cutter operation for all individuals – he tailors each operation based upon each person's specific anatomy and aesthetic needs.
In this patient's particular situation Dr. Davidson performed a mini-abdominoplasty (mini tummy tuck) in which there was no scar placed around the belly button. He tightened the muscles below (and fixed the rectus diastasis) by placing sutures in two layers. The deeper layer utilized a permanent suture whereas the superficial layer utilized a suture that will dissolve once everything has healed into place. It is incredibly unusual for a patient to experience a recurrence of her rectus diastasis after it has been surgically corrected by Dr. Davidson.
Although this patient's belly button was pulled a bit lower than it was preoperatively she wore a bikini during her recent family vacation to Mexico.