Arm Lift
*Treatment results may vary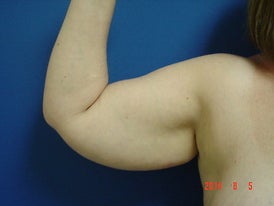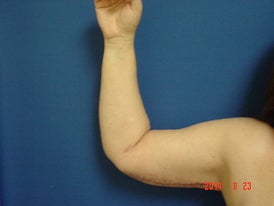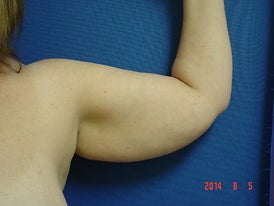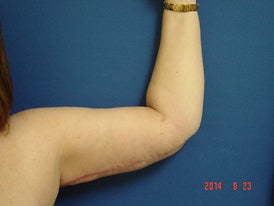 Was this photo helpful? {{ voteCount + ' other' + (voteCountOthers == 1 ? '' : 's') }} found this helpful
Arm Lift is also known by its medical name, Brachioplasty. The procedure is done to reduce the excess or sagging skin on the upper arm, while tightening the underlying tissue to give the area some definition and shape. An Arm Lift can also remove extra fat.
In this case, our patient has undergone some weight loss. She is having Liposuction of other areas, (Chest, Back, and Abdomen), and has previously undergone an Abdominoplasty (Tummy Tuck). Essentially, this is another step in what could be termed a Body Lift.
She is concerned about the drooping appearance of her upper arms, and the excess fat that is still apparent. (Sometimes it is difficult to 'guide' the weight loss to the areas you would like to choose- and exercise will not solve the problem on its own). After discussions with Dr. Lepore, she determined to undergo Brachioplasty. Incisions were made, through which excess skin and fat were removed, and the tissue tightened.