2 Stage Breast Procedure,...
2 Stage Breast Procedure, Arm Lift, Breast Lift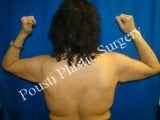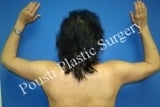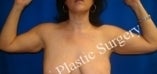 *Treatment results may vary
This 47 year old patient was interested in both arm lifting and breast lifting surgery. Breast and arm tissue relaxes with age, gravity and weight loss. Breast mastopexy refers to the lifting of breast tissue. The operation involves rearranging the breast tissue, shifting the nipple position and increasing the breast firmness by tightening the skin. On the arm, the drooping of skin is from a stretching of the anchoring system of the arm and loss of supporting fat. Patients are very unhappy with this "loose hammock" appearance. Brachioplasty (arm reduction surgery) can remove excess tissue and reduce the circumference of the upper arm. Surgical correction depends on the amount of extra skin and how loose the supporting tissues have become. Extra skin is removed from incisions along the inner arm. The incision must be placed where the tissue can be best tightened but the incision must be well hidden as well. She is currently 12 weeks post surgery.