Breast Augmentation
*Treatment results may vary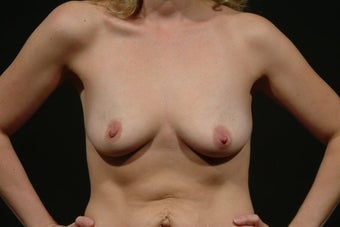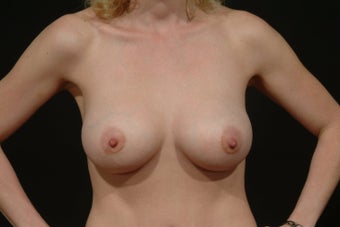 Was this photo helpful? {{ voteCount + ' other' + (voteCountOthers == 1 ? '' : 's') }} found this helpful
This is a young mother of 3 children. She is 33 years old and was no longer having more. Her kids are older now because she started at a very early age. Her husband and she decided it was time to replenish the damage that remained after children. Their main goal was a natural shape and size for her body. At the time of surgery she weighed 100 lbs and is about 5ft 3inches tall.
We chose smooth round moderate profile cohesive gel silicone implants for her using a peri-areolar approach (the circle around the nipple) for placement. Her result looks natural, her sensation is normal and the scar is barely noticeable even if you look for it up close. Thier already great marriage was re-energized.
There are many fears about using this approach, but properly done, a smashing result can be delivered consistently. I took my time with her in selecting the right implant and it paid off in the end.