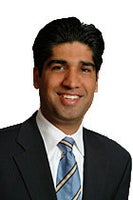 Ravi Dahiya, MD
12 reviews
5 Expert Answers
2 Wisconsin Circle , Suite 220
Chevy Chase
,
MD
20815
About Ravi Dahiya, MD
Ravi Dahiya, MD practices in Chevy Chase at Potomac Facial Plastic Surgery as a Facial Plastic Surgeon, board certified by American Board of Facial Plastic and Reconstructive Surgery and American Board of Otolaryngology. Dr. Dahiya was invited to join RealSelf in 2013, and has achieved "Participating Member" status. and is a member of American Academy of Facial Plastic and Reconstructive Surgery (AAFPRS). Dr. Dahiya has hospital affiliations at Holy Cross Hospital of Silver Spring.
Featured Patient Reviews
Posted by AIryna
Wonderful doctor, who cares about patient and results a lot! It took me over 10 years to overcome my fear of another surgery and find professional, who performs as ENT and Plastic surgeon. I've had a revision rhinoplasty due to breathing difficulties and a filler problems. Dr. Dahiya was interested in the less invasive, less painful, less time consuming procedure for me, with the best looking and great functioning results. I wish all plastic surgeons can deliver great performance and that much care about their patients. I would definitely come back for more procedures (in about 20-25 years ;o)
Posted by Becca Goodwyn
Lifestyle Lift
He takes time to answer your questions and he truly cares. When he saw me for my first post-op visit in the lobby, I can tell already that he was giving me a "doctor's look" looking at my face to see if his handiwork was successful. He took time to answer each question and understood me when I said "you are the doctor but understand where I am coming from," I am worried about this and that (I had a list on my Blackberry) -and he took time to address each question I had.
Posted by Michele in Virginia
Lifestyle Lift
Everyone at the Reston office was friendly, courteous and always assured me that my calling there was not a problem at all. They encouraged me to call with questions before and after the procedure. Dr. Dahiya came in to see me before and after my lifestyle lift and was very reassuring. He and his assistants were forthcoming with information, suggestions and advice.
Posted by aNewLook
Lifestyle Lift
Dr. Dahiya is a well qualified doctor who takes pride in his work. I called him an "artist". When my friends say I look wonderful and well rested that makes me know that nothing looks stretched or strange to them. Even when others don't notice I just think that I look like I did 5 years ago and I am happy. I have received a Life Style Lift and years back of my life. I will take really good care of myself and my skin and never take it for granted.
Posted by vick77
Lifestyle Lift
The Dr. was very caring and explained everything too me. His staff made me feel so comfortable and were very professional. I hated to wake Dr. Dahiya at 3am but he was very kind and patient with me. I would do this again if needed.
Posted by whrshrns
Laser Resurfacing
The most honest Doctor I have ever been to.
Posted by West Virginia Girl
Lifestyle Lift
When I called the 800 number, this was one of the locations closest to me.
Posted by Daphnelong
Dr. Dahiya is the primary physician at the Reston Life Style Lift center and I was fortunate enough to get him as my surgeon. I had a wonderful experience with Dr Dahiya. He is extremely professional and very easy to talk to. After my procedure Dr Dahiya called at 9:00 PM to make sure that I was allright. He even called in a prescription for me that night. I highly recommend Dr. Dahiya to anyone who is looking into cosmetic surgery, he is the best. Updated on 28 Jan 2013: I returned to LSL for a follow up examination on Jan 16, 2013. Renee Alexander was the Nurse that helped us and we could not have had a better experience. Renee was so kind and answered all of my questions and she took extra time to show my husband how to care for me for the next few weeks. She has a wonderful personality that immediately puts you at ease and she made me feel better. Renee Alexander is not only a professional nurse but also a genuinely nice peson. Thank you Renee.
Posted by dlchaffman
My experience was so positive that I felt this rating was justified. I chose this provider based on personal research. The pros included the kindness and professionalism of the doctor and staff. The doctor accurately predicted my recovery path.
Posted by muttlady
Lifestyle Lift
The Reston office was the shortest distance from my home and a trip I preferred to take.
Posted by Becca Goodwyn
ArteFill
Dr. Dahiya has performed a lower facelift for me in 2009. He did a very good job. He is not rushed when I go to his office and he actually seemed genuinely interested to know me as a person, not just a patient. HIs staff are pleasant to deal with, his clinic's location is near the Metro. Most of all, I get responded to when I email to ask more information regarding procedures.
View all reviews
Treatments offered at Potomac Facial Plastic Surgery
Education / Training
Undergraduate: Harvard University

Medical: MD, University of Massachusetts Medical School


Residencies:
General Surgery, Albany Medical Center Hospital, NY
Otolaryngology - Head and Neck Surgery, Albany Medical Center Hospital, NY

Fellowship: University of Toronto with Dr. Peter Adamson