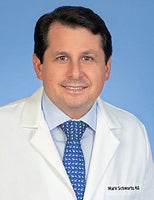 Mark Schwartz, MD
11 reviews
61 Expert Answers
79 East 79th Street
New York
,
NY
10075
About Mark Schwartz, MD
Mark Schwartz, MD practices in New York as a Plastic Surgeon, board certified by American Board of Plastic Surgery. Dr. Schwartz was invited to join RealSelf in 2012, and has achieved "Distinguished Member" status. and is a member of American Society for Aesthetic Plastic Surgery (ASAPS) and American Society of Plastic Surgeons (ASPS).
Featured Patient Reviews
Posted by Elliefromny
Liposuction
Dr. Schwartz is the epitome of what a good doctor should be. He answered all my questions, gave me an honest idea of what to expect and he was right on. He is smart, funny, and was around whenever I needed him, including after his office was closed. I would recommend him to anyone looking to do this procedure. You will get a great result and have your hand held throughout!
Posted by survivingandthriving
The breast surgeon. I was referred to Dr. Schwartz for my breast reconstruction following a mastectomy. To be honest, I was so nervous that I didn't hear a word he said on that first visit. But I felt his compassion, and I knew he was the right person, the best surgeon. Dr. Schwartz balanced his time with me between being a good listener and being able to impart concise and valuable information. He shared his considerable knowledge with me, giving options and alternatives, yet demonstrated that he is there to make his patients feel better, look better. His work was exceptional. The healing was quick. It was very comforting to have him so concerned and involved with my follow up care. The visits back to his office were always a positive experience, where he again seemed genuinely concerned about my progress. I would recommend Dr. Schwartz to anyone looking for an excellent plastic surgeon.
Posted by jgilmor
From my Oncologist and Breast Surgeon. Dr. Schwartz is, without a doubt, the most compassionate doctor I have ever seen. Having been diagnosed twice with breast cancer was terrible. Facing numerous sugical procedures and treatments terrrified me. Dr. Schwartz and his team are always there to answer my questions (day or night) and hold my hand through it all. His expertise and caring nature clearly sets him apart from the rest. He has helped me, and my family, cope through very challenging times. And most importantly, he helped me to feel normal again.
Posted by UESweightloss
Mommy Makeover
Dr. Schwartz and his staff earn all these 5 star ratings. My experiences with him an his office have been consistently exceptional! I met with several prominent plastic surgeons in Manhattan, and for me, there was no contest. Dr. Schwartz was the most highly recommended by his peers, several other NYP- Cornell doctors I spoke with recommended him personally, without reservation. Dr. Schwartz is the kindest, smartest, most talented, and most ethical doctor I have met. His skill as a surgeon is matched only by his compassion and genuine integrity as a human being. I literally trust him with my life. I also have immense appreciation for the talent, kindness and organization of his staff, both in the office and in the OR. The people who work with Dr. Schwartz are as helpful, available, knowledgeable...truly excellent. Fees are an important part of making decisions about aesthetic surgery, and I absolutely felt that Dr. Schwartz' fees were in line with his experience, expertise and location. I wanted to see a top notch surgeon, and I felt his fees were fair. Dr. Schwartz spent as much time as I needed to individualize each procedure, he answered every question I had, and was available in every possible way I needed him to be. I truly can't say enough about his amazing clinical judgement, his decision making was excellent. And his skill is incredible. I wish every one could have the opportunity to work with Mark Schwartz, MD. He has literally changed my life.
Posted by Carmela14478
Wonderful Experience. It couldn't have been easier. Dr. Schwartz was recommended to me by a friend. I was really nervous about getting a mole removed on nose. Dr. Schwartz made the experience really easy. He is personable, kind, and smart. It was almost painless, and there is practically no scar. I would not hesitate to go back to his office for something else in the future and recommend him to anyone out there looking to have something done.
Posted by jkavanaghb
Breast Reconstruction
Because Doctor Schwartz Shows An EXCELLENT Bedside Manner, He is VERY CARING,Spends Quality Time With Me, and it meant a lot to me when I had any medical procedure done, the kindness and true compassion he showed towards me,as I am always a little nervous before time. I was very fortunate to be recommended by my oncologist to Doctor Schwartz. Doctor Schwartz has changed in a better way the way I feel about my self and I TRUST HIM COMPLETELY. Doctor Schwartz IS A WONDERFUL DOCTOR AND VERY CARING and always helped me to relax before my procedures, which meant a lot to me.
Posted by fredonhoratio
Ultherapy
I did a search to find doctors who provide ultherapy in my area.
Posted by dengel
From the time you walk into the office you feel the quality and caring of the all of the members of the team from the receptionist, the office manager, surgical tech, nurse and surgeon.
Posted by JoanS
I was super satisfied care I recieved from Dr.Schwartz. A good friend recommended Dr. Schwartz. I am totally thrilled with the results of my surgery. Dr. Schwartz is all you ask for in a surgeon...kind, considerate and highly skilled. The on-site operating room is high tech, the office beautiful with a friendly and knowledgable staff. I would highly recommend Dr. Schwartz to anyone considering a procedure.
Posted by IsabelleC
Ultherapy
Dr. Schwartz is that rare combination of a surgeon who is patient, gentle, and technically excellent. I had quite a lot of questions to ask, and he patiently answered all of them! I have also had some skin lesion excisions by him as well, and have had excellent results w minimal scarring. The office is beautiful, immaculate and well equipped, the office staff were welcoming and professional. I would, without hesitation, recommend Dr. Schwartz to my friends and family.
Posted by RSNet
Restylane
Obviously well experienced. Gentle, skilled hands performed the procedure. Without hesitation I would recommend Dr. Schwartz to anyone seeking plastic surgery or cosmetic procedures. He is in a class by himself!
View all reviews
Treatments offered by Mark Schwartz, MD
Education / Training
Undergraduate: Biology, University of Pennsylvania, 1985
Medical: MD, Mount Sinai School of Medicine, New York, NY, 1989
Internship: General Surgery, Albert Einstein College of Medicine / Montefiore Medical Center
Residencies:
General Surgery, Albert Einstein College of Medicine / Montefiore Medical Center
Plastic Surgery, New York Hospital
Fellowship: Hand / Microsurgery, The California Pacific Medical Center, San Francisco, CA