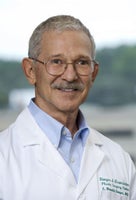 E. Ronald Finger, MD
15 reviews
257 Expert Answers
5356 Reynolds Street, Suite 505
Savannah
,
GA
31405
About E. Ronald Finger, MD
E. Ronald Finger, MD practices in Savannah at Finger & Associates Plastic Surgery Center, PC as a Plastic Surgeon, board certified by American Board of Plastic Surgery. Dr. Finger was invited to join RealSelf in 2011, and has achieved "Distinguished Member" status. The doctor has 40 years of experience providing cosmetic and aesthetic medical services, and is a member of American Society for Aesthetic Plastic Surgery (ASAPS) and American Society of Plastic Surgeons (ASPS).
Consultation Fee
Please mention you found me on RealSelf
Featured Patient Reviews
Posted by CindyAnnGA
Eyelid Surgery
Dr. Finger has been in practice for 40 years. He has an excellent reputation & is a perfectionist at his work. His staff are all warm & caring. Dr. Finger takes the time to answer all your questions & calms your fears. He is willing to come into his office to remove stitches on weekends & during off hours to accomplish the best results.
Posted by LOVINGMYBODY
Mommy Makeover
As I did my research for MD's around the area DR. Finger's profile most definitely was the best. After seeing him, and talking about my options, it was within no doubt that I made the BEST choice. Not only was he kind and knowledgable, he helped me with the convenience of my budget, as well as working with my short notice. The staff were very polite, helpful and made me feel right at home.
Posted by thatcoachchick
Internet, as well as his office being located next to my favorite breakfast restuarant in Bluffton, SC. Dr. Finger does amazing work! I felt so comfortable from consultation to actual surgery. His staff was welcoming, gentle, and professional. Dr. Finger himself had called me at 9 pm at home just to see how I was doing!! Truly a great doctor and highly recommend!
Posted by thatcoachchick
Breast Implants
Internet, and his Bluffton office next to my favorite breakfast restuarant.
Posted by Carrieb08
Eyelid Surgery
Dr. Finger and his medical staff were amazing!! I choose Dr. Finger from a google search for plastic surgeons in my area. Dr. Finger is a perfectionist and it shows in his work. I am ecstatic with my results! Everyone is amazed with the difference in my appearance. Now I'm told that I look 10 years younger than my actual age! Dr. Finger's staff go above and beyond to help me and they are the friendliest people! I highly recommend Dr. Finger.
Posted by luciamariebyrd
Facelift
I researched plastic surgeons. Dr. Finger is the Eienstein of the plastic surgery world. I had total confidence in him from day one. Of course he has an incredible reputation and is the "father" on plastic surgery in our area. Experience is critical. Additionally, he is easy to talk to and puts you at ease. His staff are all extremely compassionate and friendly. He has staff that have stayed with him and you can tell the staff enjoy what they do. I really appreciated being able to stay overnight after my procedures. They never took their eyes off of me. I know how one-on-one care can be from my career. It is rare to really get that without the person drifing off, looking at a phone, or otherwise getting distracted. Dr. Finger's staff were attentive at every minute. Amazing care!
Posted by SavannahB
compassionate and a master at what he does. I knew he'd be honest and only do what he knew i would be 100% satisfied with. His preference is Natural beauty and that was what i was looking for. I travelled out of state to see Dr. Finger and all my expectations were met and exceeded. He was wonderful about hearing my thoughts and expectations and then providing me with his expert and honest opinion. (I stress Honest!) He has almost 40 years experience, is a pioneer in the industry and is clearly passionate about his work. He knew that my ultimate goal was to look natural and through his guidance and surgical aptitude I am extremely happy with the results. Knowing that the surgery was elective I also didn't want to take any chances that something could go wrong – one's health could be in jeopardy anytime you enter a surgery scenario. Knowing Dr. Finger was my physician and surgeon totally put me at ease and provided me all the confidence one could want in this scenario. He takes every precaution possible! His staff was easy to work with and very professional. When I had questions, I was put in touch with whoever in his office could best answer my question. Sometimes it was a nurse who could answer my question with her personal testament and other times it was a nurse who could provide the technical background information I needed. They were always willing to listen and answer questions. It is obvious Dr. Finger loves his work and takes great pride in it. I am confident he would only make recommendations that would benefit his patient and that he would steer a patient away from anything he felt wasn't needed or wasn't going to provide 100% satisfaction. Choosing Dr. Finger was a great decision and even travelling to make it possible was definitely worth it!
Posted by wildman
I am very pleased with the personal attention given to me by Dr. Finger and his staff. I attended a seminar given by Dr. Finger and some of his staff members. Dr. Finger made me feel comfortable from the very lst visit I had with him. He made suggestions and listened to my concerns regarding my surgery. He is enthusiastic about his work and extremely competent with everything he does. Dr. Finger is making the world a more beautiful place "one person at a time".
Posted by jcrsail
Neck Lift
Excellent rating result of procedure, before, during and after being flawless, professional and personal.
Posted by CindyAnnGA
Facelift
Excellent surgeon with 39 yrs. of experience. Dr. Finger could probably do cosmetic surgery with his eyes closed! Dr. Finger is warm & caring & his nurses are all so nice & helpful.
Posted by TMac13
His reputation proceeds him! He is very well known and trusted here. Dr. Finger and his staff are phenomenal! I recently moved to Hilton Head Island and heard Dr. Fingers name quite often as the man to see for fillers, plastic surgery and Botox. He has a wonderful reputation here. Dr. Finger can look at you and immediately see what it is that will make you look younger, more awake and more beautiful! Without Dr. Fingers advice, I wonder if I would have ever figured out what it was that was causing me to look so tired and sad! I will continue to see Dr. Finger for all of my concerns! My next steps, Botox and skin care.
Posted by dory 1
It is rare an infrequent to experience someone who is as forthright , capable and kind as I have found Dr. Finger to be. He is a surgeon with more years of experience then some surgeons have been alive, with an inherintly artistic eye for balance and beauty. His asthetic sesibilities are matched by his skillful surgical apptitude. He obviously love's his work as he is effusive about what he does and if you are hopeing for a "dry and clinical bedside manner" you won't get it from him. Your face is virtually the first thing people see , when they meet you why risk having your face worked on by anyone but the best, that is why I have and will contiue to choose Dr. Finger. Dr. Finger along with his inordinately adept nurses moved the procedure along with ease and great comfort to me, making an involved procedure facile.
Posted by ritaelmore
Recommended by a friend and has an excellent reputation in Savannah.
Posted by JeannieBee30
Breast Implants
I found Dr. Finger through the web. He has one of the best reviews; his office pioneered cosmetic surgery in the coastal region, he's 2 hours away from my home, and best of all - he's very sincere and honest with his thoughts about what you want to achieve. It is not just how you want to look and feel now and the next 10 to 20 years, but also how you will be handling your well-being 30, 40, 50 years from now.
Posted by Cmt216
Breast Augmentation
I learned about him through a mutual friend. Dr. Finger is a wonderful doctor. I got a breast augmentation done by him and they turned out wonderful. I could not be happier with the results. He listened carefully to what I wanted until we decided the perfect size and look that I wanted. The surgery was very easy and recovery was almost painless. I would definitely recommend anyone who is considering getting a breast augmentation to go to him. Also, I would like to add that his staff is so wonderful and helpful, they explained everything to me in detail. Dr. Finger personally called me the night of my surgery to make sure everything was ok, which made me feel like he really cares about his patients! They all worked together to make me have a wonderful experience!
View all reviews
Treatments offered at Finger & Associates Plastic Surgery Center, PC
Education / Training
Undergraduate: AB, Emory University

Medical: MD, Medical College of South Carolina


Internship: Grady Memorial, Atlanta

Residencies:
General Surgery, University of South Florida, Tampa, FL
Plastic Surgery, Wilford Hall Med Center, Lackland AFB