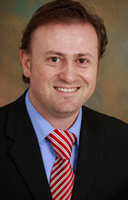 Fadi Chahin, MD, FACS
37 Expert Answers
433 N Camden Dr., Ste #1170
Beverly Hills
,
CA
90210
About Fadi Chahin, MD, FACS
Fadi Chahin, MD, FACS practices in Beverly Hills at Fadi Chahin, MD as a Plastic Surgeon, board certified by American Board of Surgery - General and American Board of Plastic Surgery. Dr. Chahin was invited to join RealSelf in 2012, and has achieved "Participating Member" status. The doctor has 9 years of experience providing cosmetic and aesthetic medical services, and is a member of American Society for Aesthetic Plastic Surgery (ASAPS) and American Society of Plastic Surgeons (ASPS). Dr. Chahin has hospital affiliations at UCLA- Santa Monica, CA, Encino Tarzana Regional Medical Center ETRMC, Tarzana, CA, Holy Cross Hospital, and Regional Trauma Center, Mission Hills, CA,Northridge Hospital Medical and Trauma Center, Northridge, CA, Henry Mayo Newhall Memorial Hospital, Santa Clarita, CA, Huntington Memorial Hospital, Pasadena, CA .
Consultation Fee
Free. Mention that you saw us on RealSelf for a free consultation
Featured Patient Reviews
Posted by gad3410
Breast Reduction
I have already had one procedure with Dr. Chahin and my results were fantastic so choosing him for this was an easy choice. I have done countless hours of research online and I found that there are a few different techniques that breast reduction offers, however, I prefer the vertical scar (or lollipop) technique as it bosts roughtly 50% less scarring then the inverted T or anchor scar. I am a candidate for this procedure which I am thrilled with. Prior to choosing Dr. Chahin for my initial surgery, I did extensive online research and looked up previous patient testinomials, which all reflected that I was in the best hands.
Posted by gad3410
His bedside manner was inpecable and his office staff were very informative and answered all the questions that I had regarding surgery. The wait time for all follow up appointments was minimal and I had no problem scheduling anything with the office. After consulting with Dr. Chahin, I felt comfortable instantly! He was very informative and outlined exactly what to expect before and after surgery. My results are amazing! His bedside manner as well as the office staff was flawless to work with. I would highly recommend Dr. Chahin to any friend or family member looking to have any cosmetic/reconstructive surgery done in the future and I know I will keep his contact information for myself as well
Posted by notsogood
Fat Transfer
Dr. Chahin was actually very nice up until the situation with the fat transfer procedure went bad. He assured me that any problems could be easily remedied in a follow-up visit. No problem. When that didn't happen, and in fact got worse, his attitude changed. Distant and defensive, both he & his staff continued to deny there was a problem at all. What I found particularly insulting was the charade they put on by insisting that I "looked just great". No other person (friends, family, or physicians) shared that view. For the past 2 years, I've spent over $30,000 trying to have the lumps, scars, & distortion repaired by other PS and am still facing more procedures simply in an effort to look somewhat normal. Adding insult to injury, after repeated requests for my surgical records & pre/post-op photos from Dr. Chahin, they were ultimately sent attached to a lengthy statement that claimed that I had been informed of all the risks of FT (lumping, scarring, & distortion) prior to surgery. Nothing could be further from the truth. Not one of those words was ever mentioned at any time even after I specifically asked what the "downside" could be. Equally disturbing was his inference that I had "unrealistic expectations" on the results. Since I had never heard of Fat Transfer before entering his office, my only expectations were those offered by himself. Before that day, I had no intention of doing anything at all to my face & was there for an entirely different procedure, a breast implant reduction. I was actually quite satisfied with my face using only occasional temporary fillers. The FT was sold by him as a cost & convenience alternative to temporary fills. I "expected" I would look much the same after FT, but only for a longer period of time. Nothing more. At my final appt, I informed him of the numerous complaints I found online & from people experiencing the same problems with FT. I suggested he might consider not continuing to perform such a risky procedure on others given the sheer number of those bad experiences. Instead of concern, he insisted that he had heard of no such complaints & actually continued to extol the virtues of FT. He dismissed the complaints as insignificant & fabricated. Unbelievable, as he was starring directly into my own distorted, puffy, lumpy, scarred result that he himself had done! Up until that point, I was still willing to give him the benefit of doubt that he truly didn't know just how damaging FT could be & how often it occured. I no longer maintain that view & strongly suggest you steer as far away as possible from this procedure & the doctors who indiscriminately use it with little regard for the risk to their patients.
Treatments offered at Fadi Chahin, MD