45-54 year old woman treated with Breast Implants
*Treatment results may vary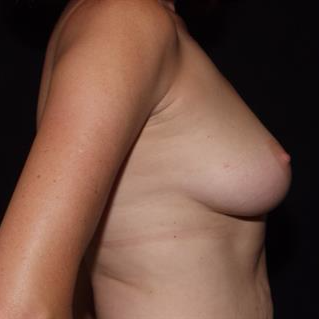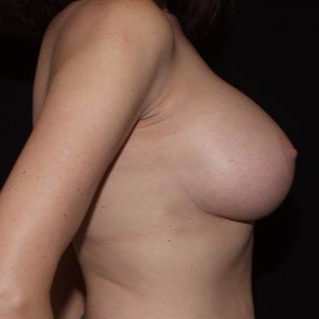 Was this photo helpful? {{ voteCount + ' other' + (voteCountOthers == 1 ? '' : 's') }} found this helpful
This patient is a 46 year old woman. She is a mother of one and is a stay-at-home mom. Over the last five years she noticed a significant change in her breast volume, especially in the upper portion of her breast. Although she was still at 34C she felt slightly "deflated". Her ultimate goal was to maintain a natural breast shape but increase fullness, particularly in the upper part of her breast and move up at least one full cup size.
Because she had a fair amount of natural breast tissue, we decided that she could tolerate a saline implant and still look very natural. Her breast enlargement was done in our surgery center and took approximately 1.5 hours. The patient arrived early in the morning, was marked and put under a light general anesthesia administered by a Board Certified Anesthesiologist. During the surgery a 390cc Mentor Spectrum smooth round saline implant was placed underneath the muscle. Her incision was hidden underneath the breast in the inframammary fold. The implant used was a more projecting style of implant to help fill in the skin and improve the overall breast shape.
She is a 34DD and completely fills out her bra and bathing suit tops.