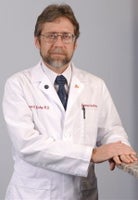 James M. Kurley, MD
12 reviews
31 Expert Answers
2111 W. Park Court
Champaign
,
IL
61820
About James M. Kurley, MD
James M. Kurley, MD practices in Champaign at Advanced Aesthetics Surgery & Laser Center as a Plastic Surgeon, board certified by American Board of Plastic Surgery. Dr. Kurley was invited to join RealSelf in 2010, and has achieved "Participating Member" status. and is a member of American Society of Plastic Surgeons (ASPS).
Consultation Fee
$90 if you mention RealSelf.com
Featured Patient Reviews
Posted by Nikki_911
Tummy Tuck
During initial consultation, Dr. Kurley explained in depth the procedure I was interested in - no question went unanswered, and honestly I only had to ask very few questions after his initial "talk". It's obvious he knows this procedure - the pros - the cons - and everything "in between". Each follow up I've been to has been direct and to the point, just the way I like it. Dr. Kurley always takes time to answer my questions, when I have them - but usually he's telling me what I want to know, before I even ask. I've called several times to ask about "this & that" - speaking with his assistant, Kendra is just as good as talking to Dr. Kurley himself. She stays informed and up-to-date on MY procedure and is capable of answering all of my questions. I don't think I've ever waited more than 5 minutes in the lobby at this office - and I always get there early! I definitely feel as though I'm "the only patient" (even though I know that's not the case).
Posted by Kelly M
Breast Implants
My ratings are based on experiences with Dr. Kurley and comparison of 2 other doctors in the area.
Posted by Champaign6656
Lipodissolve
He deserves negative stars. I was immediately sick and had to get myself an hour drive home...He said there would be no pain/side effects and when I went back for my check up much later, and he saw my swelling he was rude to me and dismissed me like it didn't exist. I had paid like $1800 for 4 treatments and I told him I would not be doing any more and he refunded like half.
Posted by unsymetrical
Mommy Makeover
Accually I didn't have capsular contration. This was a mis DIAGNOSIS for Dr. K. I had another surgeon remove two liters of fluid from my left breast and a half of liter of flid off of the right breast. To recap: Delayed treatment of an infection with a heart condition Heavy scarring Disfigured/deformed(I have a pouch in front that hangs over my underwerar and the other side dips in like a huge dent) Xtra large dog ears Unsymetrical nipples with heavy scarring 2 1/2 liters of combinded fluid removed Misdiagnosis And too much more to even post
Posted by J A
I had breast augmentation surgery with Dr. Kurley in Champaign, IL. I chose this doctor based on a referral and the fact that he performs the "Rapid Recovery" procedure. Dr Kurley and his staff were professional, helpful, and understanding of my concerns. The procedure and post-op experiences were exactly what they had told me to expect. I would highly recommend Dr. Kurley to anyone considering cosmetic procedures.
Posted by cadavis
Breast Augmentation
I heard about Dr. Kurley and the Rapid Recovery Breast Augmentation Surgery on the radio and thought why not check into it. From the moment I spoke with his wonderful staff and making my 1st initial appointment to the morning I walked into his office for surgery, I was treated with the upmost respect. Everyone at your office went that extra mile to make sure I was happy, comfortable and had every question answered. Thank you again for everything you and your staff did to make my experience the best..
Posted by mburt
Thigh Lift
I have done a lot of research on different doctors and procedures. Dr. Kurley was the best fit for me.
Posted by mburt
Tummy Tuck
I have visited multiple doctors and viewed multiple portfolios, he was the best.
Posted by amygroves
Breast Augmentation
Dr. Kurley and his staff were very friendly and kept in touch with me throughout the entire process. They answered all of my questions quickly and honestly.
Posted by mbrown88
I had two consultations for this surgery. The other doctor I went to was also from Champaign. After both consultations there was no doubt in my mind that Dr. Kurley was the doctor I should have do my surgery. I was very happy with Dr. Kurley's work. I felt very confident knowing that he had my best interests at heart. He did the rapid recovery procedure on me and the recovery went very smooth. His staff was great too. The outcome of my surgery was exactly what I had expected. I personally feel that Dr. Kurley is a perfectionist in a lot of ways and that is also why I chose him to do my surgery.
View all reviews
Treatments offered at Advanced Aesthetics Surgery & Laser Center
Education / Training
Undergraduate:
B.S., Loyola University
Chicago, IL, 1976

Medical School:
Loyola University Stritch School of Medicine
Maywood, IL, 1979
Internship:
Internal Medicine, Hines Veterans Administration Medical Center
Hines, IL, 1979-1980

Internship and Residency:
Albuquerque, NM