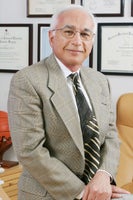 Ivan Thomas, MD
11 reviews
132 Expert Answers
1629 West Ave. J, Suite 107
Lancaster
,
CA
93534
About Ivan Thomas, MD
Ivan Thomas, MD practices in Lancaster at Ivan Thomas, MD FACS as a Plastic Surgeon, board certified by American Board of Plastic Surgery. Dr. Thomas was invited to join RealSelf in 2010, and has achieved "Distinguished Member" status. The doctor has 33 years of experience providing cosmetic and aesthetic medical services, and is a member of American Society of Plastic Surgeons (ASPS) and Fellow, American College of Surgeons (FACS). Dr. Thomas has hospital affiliations at Olympia Medical Center Surgery, Center of Century City.
Consultation Fee
Free. Complimentary Consultations. If you mention Realself.com you will recieve $100 off any office procedure or $500 off of any surgical procedure. *Restrictions Apply
Featured Patient Reviews
Posted by baduki
Breast Augmentation
After years of considering breast augmentation, I had mine done by Dr. T who was so meticulous in everything from explaining the procedure to surgery and aftercare. He came in highly recommended by two of my friends so I knew I was in good hand, but the result and the whole experience was better than I expected. I highly recommend Dr. T to anyone. By the way, the entire surgical team made me so much at ease.
Posted by B.C.
Vi Peel
Dr. T is a highly skilled surgeon with years of experience in the operating room. Yet, when I had my ViPeel done he made me feel just as important as any other patient. He took his time and thoroughly explained the process. I felt very comfortable thanks to Dr. T
Posted by Joyce A
Non Surgical Face Lift
Dr. T went into great depth in explaining everything that is involved with the Exoderm Peel, not to mention his great bedside manner. He made me feel very comfortable about my procedure, as a matter of fact, this procedure has made me look 10-years younger. People are always asking me what I have done for my face to look so young and radiant, and I am happy to tell them that I went to Dr. T. I am so grateful that we are able to have such a wonderful Doctor in our area.
Posted by Sherri H
I went to Dr. T for Juvederm injections to reduce the sunk in area of my tear trough (under eye area). At my followup visit I told Dr. T that I thought my eyes looked worse after the injections and I didn't feel that the Juvederm was placed in the correct area, he laughed at me and said "what's wrong with you". He was completely unwilling to let me show him what I meant in the mirror and forced me into the chair by pushing me down by my sholder.  He then proceeded to push very roughly on the injection areas.  He would not let me speak and kept interrupting me as he was pushing on my face.  I was very upset with his attitude and I shook my head to make him stop pushing on my face because it was painful (I was in tears at this point) and I stood up and said to him "My eyes look like crap" he replied "You are crap!"  I was floored by what he had called me and I couldn't believe what was happening.  I opened the door in the exam room and told the nurse outside that this doctor just called me "crap"!  Dr. T then came out of the exam room and opened the door to the waiting area and said "Get out".  I called my husband from the parking lot in hysterics and told him what happened, at this point the Patient Coordinator Jennifer Kim came out to ask me to come in and talk with her about what happened. In her office she repeatedly apologized for Dr. T's behavior and asked me if it would be okay if he corrected the problem with the Juvederm. I said I will have it corrected but I refuse to let that man touch my face again.  I am filing a complaint with the Medical Board of California and urge anyone reading this to think twice before using Dr. T for any procedure. I have never been treated like this by any other person before in my life not to mention a medical professional.  Shame on you! 
Posted by glo in cally
Exoderm- Dr.T is a professional in all respects. He also has a wonderful caring staff that make you feel totally comfortable before, during and after the procedure. Follow up is none to be compared. There really are not words to express this Dr.'s , compassion, understanding, ability, insight, and gift of a true plastic, reconstructive and cosmetic surgeon.
Posted by Tran from Germany
Breast Augmentation
I was never satisfied with my small breasts and always cheated with my size by wearing 2 bras at the same time. I got so irritated by the big boobs of my Mom and my sister from time to time and didn't understand why mine were so small. So when I was 20 i thought that it was time for a change.
Posted by Whiskerzmeow
In Oct. 2011 I got a tummy tuck by Dr. Thomas. He did an amazing job! I am very happy with the results & I now love the way my tummy looks. He helped me build my confidence up to where it's never been before! His entire staff are all wonderful people who treat you like family. Dr. Thomas is by far the nicest Dr. I've ever met. Thank you Dr. Thomas for everything! I appreciate you & your staff & what you do!! Your awesome!!
Posted by KImberly L.
Most caring staff and Dr. that I have dealt with in a very long time!!!
Posted by maychich
Liposuction
I heard about Dr. Thomas through a friend of mine a while back and decided to look him up. From the very first phone call that I made to schedule my consultation, I knew I would be in good hands. The professionalism and courtsey of the office staff is unparalleled. Dr. Thomas took his time explaining every bit of the procedure to me and even showing me what I can expect to look like. I am so thrilled with the decision that I made, Dr. Thomas is FANTASTIC!
Posted by B.C.
I just recently moved here to LA from Shelby Mississippi to pursue my career in acting/modeling. Typical LA right? Well my Plastic Surgeon was anything but your typical LA Plastic Surgeon. I decided to get a Breast Augmentation I choose Dr. Thomas because he was down to earth and gentlemanly (and believe me, this Southern bell knows a gentleman!) I had been to 5 consultations all over Beverly Hills and I just didn't feel comfortable, especially because I was nervous about getting the operation in the first place. Plus a lot of the surgeons insisted I get a larger size and I would "appreciate it later".... Ssshhheeeeesh.
Posted by ciaodollface
Juvederm
Ive had my lips done before by a different doctor, and my first experience was horrible,,,he numbed it and my entire face was numb EXCEPT my lips, so i decided to go to Dr. ivan , let me tell you,, HUGE DIFFERENCE!! i didnt feel a thing!! hes very kind as well as the entire staff! i never once felt uncomfortable at all and the environment is very welcoming. I absolutely looooved the way my lips came out! very natural also!
View all reviews
Treatments offered at Ivan Thomas, MD FACS
Blog Posts and Articles
Spreading of Breast Implants- How I Avoid it.
Breast implants have a tendency to shift towards the arms, irrespective of whether they are placed under the muscles. The reason for this outward shifting is the lack of adequately thick and supportive tissues on the outer sides of the chest. This spreading of implants results in widening of the cleavage and bulging of the breasts outward. I frequently see this with larger implants which is why I try to discourage patients who are asking for unreasonably big implants. Outward shifting of...
Education / Training
Medical: MD, Shiraz University School of Medicine


Residencies:
General Surgery, Episcopal Hospital, Temple University
Plastic Surgery, Duke University Medical Center