Chin implant
*Treatment results may vary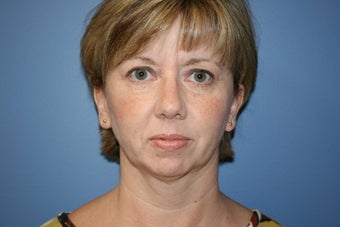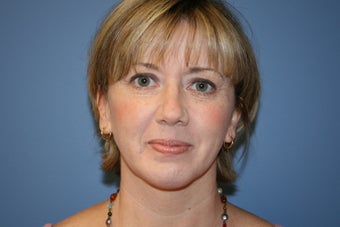 Was this photo helpful? {{ voteCount + ' other' + (voteCountOthers == 1 ? '' : 's') }} found this helpful
This 45 year-old woman saw us in our Santa Rosa office to be evaluated for a chin implant. She had always been self-conscious about her small chin, but at this stage in her life she also saw signs of aging. The lack of profile accentuated her jowls, giving her an older appearance than her 45 years of age.
After considering a facelift as well, she decided to just have a chin implant. She underwent chin augmentation with a "Flowers mandibular glove" chin implant, size large. The implant extended laterally close to her jowls, therefore softening the entire jaw line.
Her surgery lasted about one hour and her recuperation was very smooth. Her postoperative views are seen at 2 months.
Her features are more in proportion, her profile is markedly improved, and she almost looks like she had a neck lift by just having had a chin implant.