Neck Lift: What You Should Know
By
Genevieve Monsma
• Medical review by
William Portuese, MD
on August 16th, 2019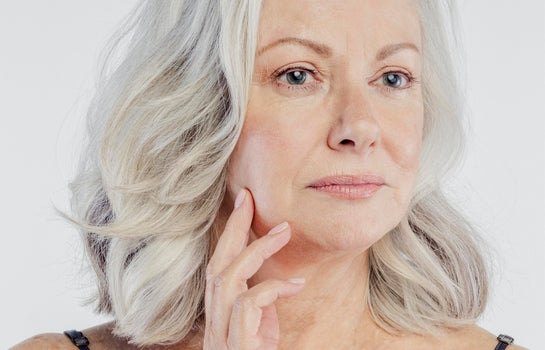 You can trust RealSelf content to be unbiased, thoughtful, and rigorously checked for quality and accuracy. We also maintain high standards for how we allow doctors to appear and participate on our platform. Learn more about RealSelf standards here.
What is a neck lift?
A neck lift is a surgical procedure that can help create a more defined jawline and slimmer, smoother-looking neck. Depending on a person's individual needs, a neck lift can address sagging skin, remove excess fat, and tighten the platysma muscle—which is responsible for those horizontal creases and the dreaded "turkey neck." While a neck lift is typically performed along with a facelift or other complementary procedures, such as skin resurfacing or the placement of a chin implant, it can also be a stand-alone treatment.
Also known as: Platysmaplasty
Pros
It's efficient. "Getting a neck lift is a one-and-done option," says Dr. Dilip D. Madnani, a facial plastic surgeon in New York City. Unlike investing considerable time and money in a noninvasive skin-tightening and/or fat-dissolving treatments, this surgery tackles fat, loose muscles, and inelastic skin in one fell swoop, with dramatic results that last for years.

You can expect minimal scarring from a neck lift, and the scars that are created tend to be discreetly concealed.

People are usually very happy after having a neck lift. The procedure has a 95% Worth It Rating.
Cons
"With any surgical procedure, there are potential health risks, and there's at least one to two weeks of downtime," says Dr. Madnani.

The surgery isn't cheap, and insurance likely won't cover it.

No results can outlast the continued effects of aging. "The problem is that we cannot stop the aging process—and the sagging will, at some point, start to show up," says Seattle-area plastic surgeon Dr. Brian Windle in RealSelf Q&A. "But your neck will always look better than if you did not have anything done."
The surgery is usually performed as an outpatient procedure, under local or general anesthesia (most patients opt for general). Depending on what's being addressed, it will take one to two hours. Not all surgeons define a neck lift in the same way, but the three common issues targeted by the procedure are excess fat, loosening of the platysma muscle, and sagging skin.

To remove excess fat that creates a double chin or masks the angles of the jaw, a surgeon typically uses two different methods, says Seattle facial plastic surgeon Dr. William Portuese. When there's fat only above the platysma muscle, liposuction is used to remove it through three incisions—one in the chin and one behind each ear. However, the vast majority of patients have fat both above and below the platysma muscle, and below-the-muscle fat is encased in fibrous tissue, requiring surgical removal, explains Dr. Portuese. The surgeon removes this fat using direct visualization (usually with a lighted retractor), which allows for the safe removal of larger amounts of fat than through liposuction alone. Then they will address the platysma muscle, to further improve the jawline.
Loose skin is often to blame for what many people don't like about their neck. In addition, the platysma muscle actually separates with age, which causes the two broad, thin bands to occur on either side of the neck. As the muscle ages, it presses and stretches against the skin, creating the appearance of ropey vertical bands and softening a once sharp jawline. Platysma muscle cords are also usually partly the cause of the turkey neck. To address the bands, a surgeon will typically do something called a platysmaplasty, sewing the two sides of the platysma muscle in the front of the neck and under the chin together like a corset (it's often called a corset platysmaplasty) and then attach it more tightly to other neck muscles. In some cases, they'll remove part of the platysma, to further tighten it.
Whether it's because of aging (and the subsequent loss of collagen and elastin) or weight loss, skin laxity is another common issue. Because most patients who have inelastic skin also have platysma cords, the tightening procedure will typically include skin trimming and redraping. (In rare cases, when the patient does not have any aging-neck issues, the surgeon may perform a mini lift, to address the tightening of the face only. Mini lifts tend to give mini results.)
Patients typically wear a pressure dressing that wraps around their head and underneath their chin for at least the first 24 hours post-procedure, to reduce swelling and bruising. Some will also get drains instead of wraps; these stay in place for one to two days, to collect excess blood and fluid. Most doctors will want to see you for your first checkup within a day or two of the surgery.
Related: Lower Facelift vs. Neck Lift: What's the Difference?
Downtime (think: comfy clothes, minimal physical activity, and staying close to home) for a neck lift tends to be one to two weeks, depending on how quickly you heal. Some people take just one week off and then camouflage scars or swelling with makeup, scarves, or turtlenecks when they return to work. Others take additional time off, to give bruises and swollen tissue extra time to heal.
Your neck will feel tight and sore as the anesthesia wears off, and there will be some discomfort for about 24–48 hours after surgery that's typically well-managed by oral pain medication, says Dr. Madnani.
Numbness is also very common, due to the temporary disruption of nerve endings—and according to RealSelf member comments, it can linger for months or longer. You'll have to keep the surgical incisions clean (your doctor will provide specific care instructions) for at least a week.
Atlanta facial plastic surgeon Dr. Mike Majmundar explains in a RealSelf Q&A what to expect the first two weeks post-procedure: "During the first week, we recommend no heavy lifting, working out, or bending over. So you can't lift your kids or pets or tend to your garden. You really want to take it easy—otherwise you'll worsen the bruising and swelling."
"On day seven, the stitches are generally removed. You're allowed to wear makeup, and we allow you to start working out at two weeks. Anticipate bruising and swelling for those two weeks. You can do things around the house, but you may not want to be seen at work or by your friends until day 12 after surgery."
After your initial two-week recovery, the scar tissue around your incision will begin to soften and fade gradually, with full healing typically in about three to four months. "A skilled surgeon usually can disguise your incisions by placing them behind your ears or along your lower hairline, so you should expect minimal visible scarring from a neck lift," says Dr. Portuese.
A platysmaplasty can create a tightness in the neck area that some RealSelf members were worried might make them feel like they're choking. That's rare, explains NYC oculoplastic surgeon Dr. Amiya Prasad in this RealSelf video, but you should be sure to discuss the concern with your surgeon. Be assured, he says, that "even though things are done very tightly during surgery, the tissue has natural relaxation." So what's tight at first will stretch out, thanks to facial movement and tissue elasticity.
"You'll notice a difference right away," says Dr. Portuese, but swelling and bruising will prevent you from seeing the full result for several weeks, until the swelling subsides.
"Exactly one month ago, I had this surgery. I'm so glad I finally did it! Still a bit swollen, still a bit numb, but every day gets a little better. Looking down at the reflection in my phone used to make me miserable. Now I'm like, look at this neck!!"
As for longevity, a neck lift is permanent though, of course, you will continue to age—and so will your neck. "The results will last years," says Dr. Madnani, "but we don't stop the aging process. So inevitably, your neck will drop some over time. However, it typically never sags to the extent it did before surgery." To prolong results, Dr. Madnani suggests maintaining a healthy weight, not smoking, and using sun protection (UV damage damages the elastin in skin). He also says that some skin-tightening treatments, using lasers, radiofrequency, or ultrasound, may help improve the longevity of the results.
"The most common adverse event following a neck lift is slight asymmetry or under correction," says Dr. Jaime Perez, a plastic surgeon in Tampa, Florida, in a RealSelf Q&A. "These issues can often be addressed during an additional procedure performed under local anesthesia in an office setting."
Blood or fluid collections under the skin (hematomas and seromas) may also occur. "There is great potential to minimize these irregularities by judicious compression and ice packs early after surgery as well as massage and thermal wraps in the later post-operative period," says Honolulu plastic surgeon Dr. Randy Wong in a RealSelf Q&A.
Rarely, facial nerves may be injured during a neck lift, resulting in a temporary weakness of one side of the lower face, which usually resolves on its own in three to six months.
Reviewers on RealSelf report an average cost of about $8,500, but it could range from $2,600 to $14,525. The final price of a neck lift will vary, depending on your geographic location, your surgeon's expertise, the cost of anesthesia, facility fees and what issues will be targeted during the procedure. "Not all neck lifts are the same," says Washington, D.C., facial plastic surgeon Dr. Philip Schoenfeld in a RealSelf Q&A. "When a patient comes to my office and requests a neck lift, we have to sit down and go over which parts of their neck they're concerned with: fat, skin, muscle, or all three. Depending on the amount of excess fat, the laxity of the skin, and the status of the muscles, the procedure will differ—and so will the cost." Keep in mind that a neck lift is considered a cosmetic procedure, so it won't be covered by insurance.
If you're OK with less dramatic or long-lasting results, you could try a nonsurgical neck lift, which combines several noninvasive rejuvenation techniques, such as Botox and Ultherapy, to smooth or tighten the appearance of your neck. Nonsurgical neck lifts are temporary, however, and don't offer much in the way of cost savings. Over time, having to repeat treatments could end mean you end up spending as much as you would have on a traditional neck lift.

"If excess fat is your only concern, there are also fat-dissolving, noninvasive treatments, such as Kybella or CoolSculpting, that may help," says Dr. Madnani. These treatments usually require multiple sessions though, and it may take weeks (or even months) to see results.
Related: RealSelf Community Members Reveal Their Favorite Neck-Tightening Treatments—From Products to Procedures
Published 4 Jan 2019 • Updated 13 Apr 2020