Smile makeover with Enlighten Whitening + 6 Cerac Crowns
*Treatment results may vary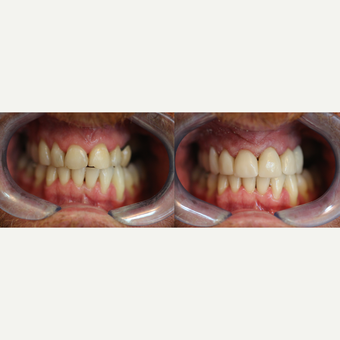 Was this photo helpful? {{ voteCount + ' other' + (voteCountOthers == 1 ? '' : 's') }} found this helpful
The patient presented with a worn smile and fractured front teeth.
The patient requested length to be added to the teeth and 6 Cerec (Emax) Crowns were produced.
The Crowns were produced after preparation, scanning the teeth with CadCam and A 3D Machine (Cerec - Sirona) printed them. The crowns were glazed and fitted within 2 hours of preparation.