Rhinoplasty at 14?
By Nastya on 06 Mar 2010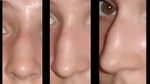 I would like to know if it is possible to make rhinoplasty at the age of 14 and which type is better in my case - open or closed? Also, how much it may cost if my nose is arcuated on the left and upward? thanks!
View 28 doctor answers to How Young is Too Young for Rhinoplasty?