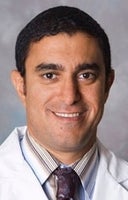 A.J. Amadi, MD
Specials and Deals
Free Eyelid Surgery Simulation with Consult
Free consultation
14 reviews
1,205 Expert Answers
1110 112th Ave NE, Suite 150
Bellevue
,
WA
98004
US
About A.J. Amadi, MD
A.J. Amadi, MD practices in Bellevue at Naficy Plastic Surgery as an Oculoplastic Surgeon, board certified by American Board of Ophthalmology. Dr. Amadi was invited to join RealSelf in 2011, and has achieved "Distinguished Member" status. The doctor has 12 years of experience providing cosmetic and aesthetic medical services, and is a member of American Society of Ophthalmic Plastic and Reconstructive Surgery (ASOPRS) and Fellow, American College of Surgeons (FACS). Dr. Amadi has hospital affiliations at University of Washington, Harborview Medical Center, Seattle Children's Hospital.
Featured Patient Reviews
Posted by Lolasmom308
This procedure was alot to ask of one doctor but Dr. Amadi did an amazing job. The healing process went well, the scars are close to invisible, I look refreshed, and I feel great so I don't know what more one could ask for. I wouldn't hesitate to recommend Dr. Amadi and this office. My experience was one of excellence from start to finish.
Posted by Darla Smedley
Thank you Dr. Amadi for all your help and expertise. I have already recommended friends.
Posted by hdnyc
Dr Amadi and his caring staff at Naficy Plastic Surery made my experience a wonderful one! Dr Amadi was recommended by friends as a talented and caring Eye Plastic surgeon. My decision was the right one!!!
Posted by Dpitcher
Eyelid Surgery
From my Dermatologist who referred me to him. A.J. is great at what he does across the board, Top Notch.
Posted by mcowens1
Eyelid Surgery
Dr Naficy had Dr Amadi participate in my initial consult. Dr Amadi and Dr Naficy are colleagues at Naficy Plastic Surgery and Rejuvenation Center.
Posted by Jane Sylvester
Through Dr. Heather Rogers and Dr. Brandith Irwin, both Dermatologists in Seattle, WA. From consultations, through surgery and post-ops, I found that I was treated by Dr. Amadi (& Dr. Naficy)- as well as all the staff-with respect, understanding & patience. Dr. Amadi is not only a wonderful surgeon, but also a terrific physician, and was always available and affable in tending to my concerns.
Posted by Saydi
On the internet
Posted by Neuesgesicht
Referred by Ophtomologist. I now truly appreciate the exceptional reconstruction work done by Dr. Amadi. Friends and family can nolonger tell, under which eye the growth had occurred. That to me is justification enough. Many thanks, Dr. Amadi.
Posted by SusanSullivan1970
The results speak for themselves. I also had laser resurfacing and a sleepy eye fixed and I look like me but just a better version. Dr Amadi had amazing credentials along with a dynamic and caring personality. He truly cares about his patients. Dr Amadi's bedside manor, the time he spent with me assuring me that I would be just fine made me feel 100% comfortable with the surgery I was about to go into.
Posted by kas64
Eyelid Surgery
I wanted a highly skilled ophthalmic surgeon to perform my eyelid ptosis surgery. Dr. Amadi has an extensive resume in oculoplastics, and the Nacify clinic itself has an excellent reputation in the Seattle area. Dr. Amadi was very understanding & knowledgable during my initial evaluation and immediately put me at ease. The surgery itself was flawless. I opted to stay awake and actually enjoyed witnessing all aspects of the procedure. Also, the staff at the Naficy Rejuvenation Center were most helpful and kind during each phase of my care. I am so grateful to Dr. Amadi for making me feel normal again!
Posted by LE1284
I chose Dr. Amadi based on the excellent reputation of The Naficy Rejuvination Clinic and his impressive bio, in particular. Very positive experience. Procedure and slight healing time was well worth it. Dr. Amadi does amazing work and has a first class, professional staff!
Posted by vletoto
I was able to take my time and research several plastic surgeons. The fact that Dr. Amadi specialiizes as a ocular plastic surgeon made the choice easy due to we were concentrating on the upper face.The results are pleasant and exceed any of my expections. My experience at Naficy Rejuvenation was very successful!! Dr Amadi was able to use laser and fat transfers to give me a fuller more youthful look. i could not be more pleased with the staff's professionalism and Dr.Amadis expertise. Thank you!!!
Posted by Kathryn2552
Eyelid Surgery
I appreciated Dr Amadi's honesty and he over delivered. Dr. Amadi was very personable, honest and upfront - not over promising anything. I am thrilled with the result - very natural, and better than I expected!
Posted by Nellebert
Facial Reconstructive Surgery
When I found out I had cancer (sbcc) on my upper eyelid and would need both Mohs and reconstructive surgery I was pretty much in a panic. I knew nothing about plastic surgeons in the area, only that the one my Mohs surgeon was referring me to had some very unfavorable online reviews. So I began calling other local Mohs surgeons and asked who they used for reconstruction in the eyelid area; signs began to point towards Dr. Amadi. I also saw that Dr. Amadi was quite active in the Q&A section of realself.com which led me to believe he was "in tune" with his profession and didn't just go to work and then "check out" once work was done. I also saw the wonderful Heroes of Harborview stories about him at the UW Medicine Eye Institute website. All of this combined with the care and concern he and his staff showed to me during my initial consult made me certain he was the surgeon for the job. Additionally, the place my Mohs surgeon wanted to send me to REFUSED to do my eyelid reconstruction on the same day as the Mohs surgery. When I spoke with Dr. Amadi's staff, they were more than willing to perform the reconstruction immediately after the Mohs surgery and felt, as I did, that this would be the best course of action due to swelling, etc. if I had to wait a whole day for reconstruction. Where the other surgeon's office seemed to fall short, Dr. Amadi's office was on top of everything and exuded much more care, compassion, and professionalism. And, just as expected, on the day of my Mohs surgery, they were ready for me to come right on over (I had a light dressing on my Mohs wound; the Mohs surgery was performed at a different facility about a mile or two away) and they let hubby and me wait in a super-comfy, private room until they were ready to take me in for the reconstructive surgery. When I woke from the surgery, I felt as though I had just had a great rest! Following surgery I was amazed to see I had virtually no bruising, just the swelling you would expect, and Dr. Amadi's staff was available 24x7 to answer any concerns or questions. Unparalleled "customer service".
View all reviews
Treatments offered at Naficy Plastic Surgery
Education / Training
Undergraduate: BS, Rensselaer Polytechnic Institute
Medical: MD, Upstate Medical University, SUNY at Syracuse

Residencies:
Ophthalmology, New York University Medical Center
Ocular Oncology and Pathology, Massachussets Eye and Ear Infirmary and Harvard Medical School
Oculofacial Plastic and Orbital Surgery, University of Washington Medical Center