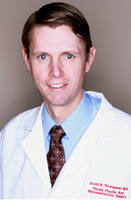 Scott K. Thompson, MD
15 reviews
20 Expert Answers
2255 North 1700 West, Suite 205
Layton
,
UT
84041
About Scott K. Thompson, MD
Scott K. Thompson, MD practices in Layton at Scott Thompson Facial Plastic Surgery as a Facial Plastic Surgeon, board certified by American Board of Plastic Surgery. Dr. Thompson was invited to join RealSelf in 2011, and has achieved "Participating Member" status. The doctor has 8 years of experience providing cosmetic and aesthetic medical services, and is a member of American Academy of Facial Plastic and Reconstructive Surgery (AAFPRS). Dr. Thompson has hospital affiliations at Davis Hospital, Lakeview Hospital, Mountain West Surgical Center, Southtowne Surgical Center.
Featured Patient Reviews
Posted by healthcare21
I went to Dr. Thompson for eye lid surgery because he had removed a cancerous tumor from a family members face. For the vast amount of surgery they needed you can hardly tell or see much scaring. This sold me.
Posted by jillhodges
I heard about Dr. Thompson from a member of my family. I gave him this rating based on my experience with other plastic surgeons. This is the second cyst I've had removed by a plastic surgeon and it was a MUCH better experience than the first. Dr. Thompson and his team are very friendly and professional. I especially appreciate the time he spent with me. I was in town over the holidays and he removed a cyst from behind my ear. I live in California and haven't been impressed with the type of care I have received here. Dr. Thompson is definitely a gem. I will schedule any addition cosmetic procedures when I'm in town!
Posted by dawngrotta2013
I choose Dr. Thompson by speaking with one of his staff at my local beauty salon. They have never disappointed me in service. He is very attuned to insuring one's face looks natural after enhancements. I appreciate that and have recommended him to several friends and family members. He has been upfront and honest with me regarding my concerns. He has given me options that I would not have known about which saved me $$$$. The staff is friendly and greet and know me by my first name. I would highly recommend!!!!!
Posted by Beckster1951
I asked an employee from another general doctor's office who they considered the best for facial surgery. Dr. Thompson was their preference.
Posted by Barry35931
I chose Dr. Thompson when my previous plastic surgeon stopped doing Botox procedures himself, having a technician do the work. It turned out just awful. Dr. Thompson is professional, caring and the results are awesome. I appreciate that he does the procedures himself and does not have a technician or colleague preform the applications like other plastic surgeons I have gone to. He and his staff do many things to make products affordable. Ei: rebates, product promotion certificates, and birthday perks! Very accommodating, friendly staff...Thanks!
Posted by jerzeekat_2000
I visited with him twice prior to making my decision to be certain. Dr. Thompson explained everything In detail during the procedure, he asked me how I was handing the laser, if I was feeling ok and his staff explained my after care and were always very willing to answer all my questions and assure me that my post laser experiences were normal ! I have complete confidence in Dr Thompson and his staff, as well as the utmost trust. I can't be happier with a doctor than I am with Dr Thompson.
Posted by potteru
Dr Thompson is the most caring doctor I have ever had the pleasure of working with. Once again, Thanks to you and your staff! One of the things that made my experience so positive, is Dr. Thompson. He is a kind, compassionate man. He advised me in my treatment. His office staff is outstanding and always make me feel important. Thank You Dr Thompson, it has been a pleasure working with you. Insurance does not pay a thing, so I have to save my $ which is not cheap :-) but i feel good about myself and the way I look.
Posted by Nick Roy
Lip Surgery
I was referred to Dr. Thompson by a family practice physician. His care was impeccable.
Posted by zzisumbo18
I came in to see Dr. Thompson because I had heard good things about him and that he is very personable. I have always been concerned with how my ears have stuck out and when I wear hats I always tuck them in under. Dr. Thompson was very helpful with explaining the procedure and answering all of my questions. I would recommend Dr. Thompson to anyone and appreciate what he did for me.
Posted by Debbie Christensen
I've been going to Dr Thompson for many years after being referred by a close friend, who's father is also a plastic surgeon in another city nearby! I also have a plastic surgeon family member nearby, yet, I choose to see Dr Thompson! Dr Thompson is very personable & caring as well as extremely proficient and skilled. I have had a variety of procedures including fillers and Botox, laser resurfacing, mole removal, ear repair. He is the best! There is no scarring because of his skill and technique! I have referred many family members & friends to him. I trust him with my face!
Posted by lisakov1
Dr. Thompson spent quite a bit of time answering questions and making reccomendations based on the look I wanted to achieve. After consulting with several plastic surgeons I chose Dr. Thompson because of his professionalism and obvious attention to detail.
Posted by Bright3
Dr. Thompson did a great job, it was a fast painless procedure and I loved the results. Within a few days the office called back to check up on me also which I thought was nice. Very courteous staff and the whole office puts you at ease. I felt Dr. Thompson really took the time to answer all my questions and had a very caring manner.
Posted by Lyn84501
Eyelid Surgery
I attended one of his conferences in Salt Lake City. I wanted only the best surgeon to do it. For me that doctor was Dr. Thompson. He is very professional and has a great bedside manner. I made the appointment for the consult. He answered my many questions, addressed my concerns, and also discussed with me what I wanted and expected from the surgery. Of course, I was a bit nervous, however, I was reassured by not only Dr. Thompson but his staff as well. I can't adequately tell you how happy I am with the results. Dr. Thompson is very meticulous, honest, and skilled. His methods are state of the art and mostly, he wants his patients to be happy. His staff is knowledgable and supportive. My results have always been natural and not overdone. Thank you Dr. Thompson and staff! You are the best!
Posted by Lori s a
Eyelid Surgery
Referrals from a friend and another referral from family member.
View all reviews
Treatments offered at Scott Thompson Facial Plastic Surgery
Education / Training
Undergraduate: BA in Piano Performance and Pre-Medical Sciences, Utah State University, Logan, Utah
Medical: MD, University of Rochester School of Medicine, Rochester, New York
Internship: General Surgery, Strong Memorial Hospital, Rochester, New York
Residency: Otolaryngology – Head and Neck Surgery, Strong Memorial Hospital, Rochester, New York
Fellowship: Facial Plastic and Reconstructive Surgery, with Dr. Vito C. Quatela, University of Rochester School of Medicine