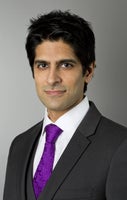 Jamil Asaria, MD
11 reviews
165 Expert Answers
186 St George Street
Toronto
,
ON
M5R 2N3
Canada
About Jamil Asaria, MD
Jamil Asaria, MD practices in Toronto at FACE Cosmetic Surgery as a Facial Plastic Surgeon, board certified by Royal College of Physicians and Surgeons of Canada - Head, Neck & Facial. Dr. Asaria was invited to join RealSelf in 2011, and has achieved "Distinguished Member" status. The doctor has 9 years of experience providing cosmetic and aesthetic medical services, and is a member of Canadian Academy of Facial Plastic and Reconstructive Surgery (CAFPRS). Dr. Asaria has hospital affiliations at Humber River Regional Hospital.
Featured Patient Reviews
Posted by Bushka1980
Juvederm
Real Self. Dr. Asaria is fantastic! He is very patient and answered all my questions.
Posted by jkot
I was referred to him, by my GP. Dr. Asaria is one of the nicest, most caring, and most patient person you will ever meet, and an amazing surgeon. He took the time to carefully explain the procedure, and listened to all my questions and concerns. I could not be happier with the results I was left with after my procedures, and the after care given to me. Dr. Asaria called me right after my surgery to check up on me, and I felt completely taken care of in every respect. He is the best at what he does, and I would highly recommend him to anyone!
Posted by gsaati
Referral from another surgeon. Superb staff, Superb treatment, and Superb results! Dr. Asaria, and his staff, showed a keen interest in educating me about certain procedures and products, were extremely attentive to my objectives, and were also very focused on giving me a natural (yet enhanced) look. The clinic is captial "G" gorgeous, only surpassed by the lovely nurses and admin staff who are equally as wonderful and pleasant to deal with. I can't say enough good things about my experience at Face Cosmetic Surgery, and I strongly encourage you to book a consultation.
Posted by Jaded83
He's very competent, helpful and perfectly understood my concerns. I am very satisfied, especially because I found him very up-to-date, which is fundamental in this subject, and careful about my doubts and expectations.
Posted by FazUKTO
Simply put: Dr. Asaria is a brilliant facial cosmetic surgeon who listens to your needs and responds to each and every question whilst contributing his knowledge and insight to give you an optimal outcome that suits your facial features. Researched cosmetic surgeons in Toronto over a period of several months and was also recommended to me by another great plastic surgeon. He was recommended to me by another top plastic surgeon, and I'm so happy I chose him: he's knowledgeable, kind, vivacious, and always willing to help. His staff are equally friendly and supportive. Would strongly recommend him for any facial procedures.
Posted by sweetdesire
Dr. Asaria was extremely patient with all my questions and concerns and was very enthusiastic and motivated to give me the best results possible. I definitely would recommend his services to all of my friends and family! My only reget is that I didn't visit him sooner. I'm absolutely in love with my results and will definitely be going back for touch-ups and additional services when needed.
Posted by Adamk1950
Recommended by another plastic surgeon as a specialist in facial surgery. I made the right choice.
Posted by breejamieson
I couldn't recommend Dr. Asaria more highly. Simply the best!
Posted by JonBekker
Was referred to me by another doctor who, and i quote, said "he is the best plastic surgeon in canada, people from the states come here to see him" Absolutely fantastic, Jamil is very kind and gentle and makes sure he knows exactly what you want before the procedure. he is not like a lot of other surgeons that just say it will be fine and nod there head without really listening to what you are saying, instead he takes a lot of time and care and even creates goal outcomes using photoshop to make sure he knows exactly what you want. I put my trust in Dr. Asaria and he surpassed what i hoped for. He gives you that nose you've always dreamed of without making it look like you had surgery. I had very little swelling afterwards and my recovery was very quick, no packing needed. If you are considering fixing a broken nose, or just want to get a rhinoplasty to change the shape of your nose, look no further, Asaria is the man for the job! Its been a few months now and my nose is looking fantastic! If i ever break my nose again I know where to go...knock on wood though lol. -Jon B
Posted by janderson408
I wanted to share a great experience that I had with Dr. Asaria. I had a rhinoplasty done and felt like I was taken care of so well before and after my procedure. Dr. Asaria and his staff are so incredibly nice and my surgery went perfectly. My nose looks simply amazing and I am so thankful to Dr. Asaria. I would recommend him extremely highly.
View all reviews
Treatments offered at FACE Cosmetic Surgery
Education / Training
Undergraduate: BSc, University of Toronto
Medical: MD, University of Toronto
Residency: Otolaryngology - Head and Neck Surgery, University of Toronto
Fellowship: Facial Plastic and Reconstructive Surgery, University of Michigan