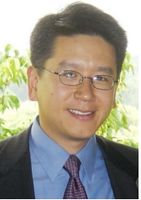 George Yang, MD
13 reviews
40 Expert Answers
132 East 76th Street, Suite 2B
New York
,
NY
10021
About George Yang, MD
George Yang, MD practices in New York at Millennium Facial Plastic Surgery, PLLC as a Facial Plastic Surgeon, board certified by American Board of Facial Plastic and Reconstructive Surgery and American Board of Otolaryngology. Dr. Yang was invited to join RealSelf in 2008, and has achieved "Participating Member" status. The doctor has 8 years of experience providing cosmetic and aesthetic medical services, and is a member of American Academy of Facial Plastic and Reconstructive Surgery (AAFPRS). Dr. Yang has hospital affiliations at Lenox Hill Hospital.
Consultation Fee
$150 applied toward surgical fees with in 6 months of the initial consultation
Featured Patient Reviews
Posted by avamarie
Restylane
Excellent Doctor! Honest, passionate about what he does, he could have sold me a lot more but told me when I didn't need something, took 2 1/2 hours with me! There for a consult for bleph and he did another (cheaper) procedure that produced great results!
Posted by morgane11214
Eyelid Surgery
My surgeon Dr George Yang was excellent. From my first appointment with him where he spent well over an hour explaining and answering my questions to the actual surgery Dr Yang was amazing. He took pictures, pointed out the different areas of concern, discussed his approach and explained what he thought was the best approach to my specific case. He takes a very conservative approach to surgery and the pictures of his patients looked natural, not "done". As for the actual surgery, I was amazed to find that he carefully measured and drew his markers very deliberately for over half an our. Not what TV shows would have you think I might add... After the surgery I was given pain killers and headed home where I expected to be in considerable pain. I only took one pain killer after which there was only soreness. There was some bruising for the next few days but since I wasn't in pain I headed back to work after 5 days. I wore glasses and barely anyone noticed the swelling. One year later I have no visible scars and I look years younger, more refreshed and happier. My droopy eye restricted my vision. I remember thinking the first time I got on the subway after the operation that I could see the signs without lifting my head. What a gift! Dr, Yang and his staff are caring and attentive. Both Dr Yang and Mae his assistant checked up on me in the days after the operation. I could not recommend them more highly.
Posted by New York5005
Neck Lift
the doctor is completely accessible to his patients at practically all times and takes tremendous pride in his work. he's fastidious. he thought my surgery went well. while my swelling and early recovery period is a little ugly, that's my individual healing process and I have full confidence that the doctor will address any concerns, now and in the future.
Posted by Chai007
After meeting with several surgeons, I was totally happy to meet the real "doctor" and "surgeon! He spent a long hours to explained to me that difference with other procedures of pros and cons to my case, and what I was looking for, and how we can accomplish to meet my needs. He is very skilled, professional, knowledgeable, and experienced. Besides being a great surgeon, he is very honest, compassionate, and respectful to patients. He explains procedures with technologies while considering patient's needs and preferences. I am also impressed that he always takes time, and asks courteous questions, and let patient talk, and listens to me very carefully. I am so happy with the result, and needless to say, I return to other procedures.
Posted by Minnow
Asian Eyelid Surgery
Being from NYC I consulted several docs in town and researched the ones in LA as well. I am Asian and from my research I understood that the eyelid folds would need a different type of surgical technique so I needed a surgeon who knew and could do it well. Had a long and productive consultation with Dr Yang who impressed me with his knowledge and understanding of the ethnic differences in facial features. He is truly passionate and curious about what he does and has his own insights of how different ethnic faces age.
Posted by zinc
Neck Lift
In short: you can't find a better surgeon anywhere. I had been contemplating a neck lift for several years, and I spent a lot of time researching surgeons; with all the advertising and promotional campaigning out there, it can be difficult to get a real sense of a surgeon's ability, reliability, and overall ethics. I had been lured in by slick websites and media appearances in the past and, a few years ago, had liposuction done by an expensive "celebrity" surgeon in Los Angeles; he didn't do "terrible" job, but it was definitely the conveyor-belt cash-grab treatment, and I came away lumpy and asymmetrical. Looking for a surgeon this time around, I focused more on online commentary, blogs and surgeon responses to questions on this and other websites. I came across Dr. Yang's writing on various kinds of facial and reconstructive procedures, and I was impressed by his sensible, intelligent, and comprehensive remarks. As I was coming in from out of town, Dr. Yang and his staff made special efforts to accommodate me in terms of preparation, procedure date--and he even made a house-call to my hotel in New York for the post-operative examination. Dr. Yang is a gifted surgeon, an artist, and a really kind person who obviously wants the best for his patients. He doesn't try to up-sell and genuinely respects the patient's objectives. Throughout my interactions with him, I felt extremely confident, and remember thinking that he was the kind of surgeon you would want working on your child--he's that solid. I will definitely head back to him in the coming years for tweaks here and there, even if it means traveling to New York from western Canada. I've never written a review of this kind before, but I knew that I would for Dr. Yang, because he is that rare professional who is an exceptional, world-class talent, but with a modest and unpretentious personality. I also wanted to save people time and aggravation in their search for a plastic surgeon, as I know from experience how confusing and tedious the search can be. My advice: put Dr. Yang's name at the top of your list!
Posted by JDR2011
Lower Face Lift
Did all my research on websites. Dr. Yang truly earns 5 stars in each category. This is one of the points I want to stress…. Dr. Yang will help you make decisions and provides counsel only after very careful thought, discussion and observation. He will not perform any procedure unless he is completely comfortable it is necessary and is confident will result in what is best for you. After further in-depth and candid discussion we agreed to move forward. Dr. Yang's knowledge of his craft, of all procedures he performs, is deep, broad and up-to-the moment. His patience is endless. The offices are beautiful, thoughtfully designed with patient comfort the first thought. Every person his office is welcoming, professional, and kind. I cannot fully express how caring, focused, and committed to delivering the absolute best work Dr. Yang is. I feel truly blessed to have found him. I have let Dr. Yang know I would be very happy to talk to anyone considering working with him. This is a hugely emotional, financial, psychological process. I can share my experience with you and hope that it brings you comfort and courage.
Posted by Cleo29
Restylane
I choose Dr. Yang after seeing him on realself.com and reviewing his website as well as credentials.
Posted by JLinCT
Facelift
Dr. Yang is a true artist, skilled, professional and extremely enthusiastic about his craft. He is caring, compassionate, and kind. He has all the patience in the world, and will answer any and all questions, whether it be a trivial one, or a lengthly one, and never seems to mind. He actually enjoys talking about his work and is truly a master, and is always accessible to you...even on a weekend! I met Dr. Yang several years ago when I thought about doing a necklift. We spent several hours together talking and discussing it, and I chose to wait a while..in fact almost two years passed. No pressure was applied to do it immediately as his goal is to make the patient happy rather than on financial matters. I somehow connected to him and knew he would become my surgeon. There was such an element of trust that I felt, and it is important to feel that way about the person who is doing your sugery. I finally decided to have the surgery and was operated on April 9th, 2012 I chose to have the surgery in the surgical center, with local and sedation as opposed to doing it under true local in his office. That option was made available to me, and it is a true savings if someone decides to do it that way. Dr. Yang will discuss all the pros and cons of both choices. His fees are reasonable and fair. The surgery went off without a hitch, and I am now a little more than two weeks post op. I have no visible bruising and even as much as a week after, I could hardly tell that I was operated on. The suturing was so carefully placed, I am healing so well, the result is so natural!! I could not be happier that I chose Dr. Yang as my surgeon. There is no one out there that would have or could have done a better job than he did. I highly recommend him. I have been out in public, and there are no tell tale signs that I have had surgery,except that the results that I have in my neck profile and face are exceptional. I had visible platysmal bands in my neck from previous liposuction (twice) and they are completely gone and my face is rejuvenated in the most natural way. I also chose Dr. Yang since he is a board certified ENT as well as in Plastics which is an impressive combination since he is working on your neck and face. It is important when doing facial surgery to shoose a doctor who is specialized in the face, and not someone who does all body parts :) A physician who does breasts, tummy tucks, lipo, does not have the overal skill nor attention to detail that is required, as compared to one who performs sugery of the face....a specialist. I would have no hesitation in recommending Dr. Yang to any one who should ask, and would use him again if needed in a heartbeat. He is humble, honest, genuine and a sweet human being with the utmost of integrity. I am so lucky to have found him!
Posted by Sallify
Neck Lift
I cannot sing Dr. Yang's praises highly enough! Caring, patient, kind, humble. But most importantly an artist, and highly skilled at what he does.
Posted by LucyGoosey
Acne Surgery
Dr. Yang is the most caring doctor that I have ever met (and that's saying a lot, considering I have lived in the NYC-metro area for the past decade). Dr. Yang loves learning and loves his craft, and he seems to really want his patients to be happy not just with the results but with the entire process. He listened to me and did not push any artificial fillers, as other doctors had previously done. And the subcision worked wonders on my rolling acne scars!
View all reviews
Treatments offered at Millennium Facial Plastic Surgery, PLLC
Education / Training
Undergraduate:
Bachelor of Arts, Biology, Johns Hopkins University
Baltimore, MD, 1993

Medical School:
M.D. Cornell University Medical College
New York, NY 1999

Internship:
General Surgery
University of Pittsburgh Medical Center, Pittsburgh, PA, 2000

Residency:
Otolaryngology-Head and Neck Surgery
University of Pittsburgh Medical Center, Pittsburgh, PA, 2004

Fellowship:
Facial Plastic and Reconstructive Surgery,
U.C. Davis Medical Center
Sacramento, CA, 2005