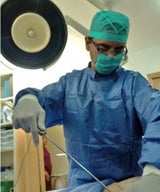 Luis Suarez, MD
12 reviews
16 Expert Answers
Zona Rio Misión de Santo Tomas 1507 Tijuana, Baja California, Mexico
Tijuana, Mexico
,
BC
Mexico
About Luis Suarez, MD
Luis Suarez, MD practices in Tijuana, Mexico at CER Clinic as a Plastic Surgeon. Dr. Suarez was invited to join RealSelf in 2012, and has achieved "Participating Member" status. The doctor has 17 years of experience providing cosmetic and aesthetic medical services, and is a member of American Society of Plastic Surgeons (ASPS).
Consultation Fee
We offer virtual consultation with photos
Featured Patient Reviews
Posted by poison.IVY13
so i had been searching for doctors for breast augmentation i had always wanted one, but i was to young or broke lol . so when i had turned of age and had certain amount of money saved i decided to search for a doctor , beign from the us i first began to search for doctors in the states , but seriously the prices were off the roof crazy expensive so where near what i had saved , so then a co-worker recommended me to her dr. from tijuana dr. luis suarez , so i thought i have nothing to loose so i began to do some research aside from the fact that my co-worker was really happy with her results , so i went into his website and saw before and after pictures and was happy with what i had seen and also the testimonials , so i called and made a appointment , and went and met dr. suarez , seriously as soon as you talk to him and he starts explaining how the surgery would go about and everything in reference to the breast augmentation he is so knowledgeable and professional and just point blank amazing , i was so convinced as soon as i walked out , so looked for dates they explained to me the deposit situation lab work and so on , so i found a date i liked they let me know it was available , they gave me the option on depositing in dr. suarez bank account in the us which i thought was so time saving so i did , i they saved the date i wanted , i payed off the balance the day of the surgery. i totally recommend dr. suarez and his staff they were nothing but wonderfull !!! you should def. check him out great price , great surgeon , just great great great :d
Posted by Mandiee
Mommy Makeover
online research
Posted by jenM_81
Mommy Makeover
I found Dr. Suarez from the Internet, but was very please with the review he had on real self. I have nothing but good things to say about Dr. Suarez. I'm completely pleased.
Posted by southerncomfort
Brazilian Butt Lift
Dr. Suarez is a really nice guy and wonderful surgeon. I gave him this rating because he has a lovely staff, that did a great job coordinating everything and answering all of my questions. They did a nice job making this whole journey stress-free and easy for me, but I think it would be better if the doctor himself was more involved in the pre-surgery process. I chose Dr. Suarez because his office offered me a price I couldn't refuse, and I'm glad I did because my surgery turned out to be a very good experience. I'm still healing so I can't comment on final results yet, but as of now I would recommend him with two thumbs up!
Posted by BurbankStar2012
Tummy Tuck
My friend got her boobs done a few weeks ago.
Posted by Rebecca01
Tummy Tuck
i was recommended through a friend and I saw her results and she looks amazing.so I decided to go through with the surgery and i am extremely happy.
Posted by Nettie in AZ
Breast Augmentation
I did lots of research, read reviews, asked lots of questions. I am very excited and will definitely let you all know how it goes.
Posted by chrisinwoodburn
Arm Lift
Referral. I made sure I saw his work on several people.
Posted by Princessss
Tummy Tuck
Dr. Suarez took the time to answer all my questions and concerns. As soon as I met him, I knew he was the perfect surgeon to perform the revision. Great bedside manners by all the nurses. All my questions were answer in a timely manner.
Posted by vajayjay
Brazilian Butt Lift
He's the best and friendly makes u feel right at home
View all reviews
Treatments offered at CER Clinic
Blog Posts and Articles
Expectations are a very important point when having plastic surgery; it is usually the main cause of dissatisfaction with the outcome of your surgeon. Talk clear and direct, express what you want and ask, everything you need to know, when in consultation with your surgeon that is the time to put a firm foundation for your plastic surgeon so he or she can provide the appropriate alternatives of the procedures you are going to undergo. Remember that the results you get are for you and...