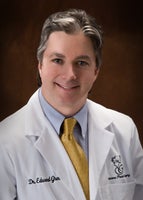 Edward J. Gross, MD
12 reviews
86 Expert Answers
1035 Primera Blvd
Lake Mary
,
FL
32746
About Edward J. Gross, MD
Edward J. Gross, MD practices in Lake Mary at Primera Plastic Surgery as a Facial Plastic Surgeon, board certified by American Board of Facial Plastic and Reconstructive Surgery and American Board of Otolaryngology. Dr. Gross was invited to join RealSelf in 2009, and has achieved "Distinguished Member" status. The doctor has 18 years of experience providing cosmetic and aesthetic medical services, and is a member of American Academy of Facial Plastic and Reconstructive Surgery (AAFPRS). Dr. Gross has hospital affiliations at Orlando Regional Medical Center.
Consultation Fee
$150 --includes Computer Video Imaging Consultation with Dr. Gross
Featured Patient Reviews
Posted by JessiM828
Rhinoplasty
Dr. Gross and his staff are very personable. You can tell they truly aim to please and want the best outcome for you. I felt very comfortable with Dr.Gross and felt he knew exactly what I wanted, and my vision for a "new me" , before I even had to tell him. You can tell he is extremely knowledgeable and experienced in this field. He has great bedside manner and listens to your wants/needs. I never felt nervous bc I trust him and his talents. His work speaks for itself! Best facial surgeon in orlando by far :)
Posted by motley
Rhinoplasty
I chose Dr. Gross based on viewing his work compared to other Doctors in the area and his operation is top notch!
Posted by candi22
Dr. Gross and his staff are well educated and informed about all aspects of facial plastic surgery. I would never go anywhere else!! I love Primera!!!
Posted by Toe Tapper
Facelift
I choose Dr. Gross because he only does face. Everyone told me go to someone who only does face. I wish he knew how to detect thin skin and muscles my whole surgery was a waste, my hair fell out from the surgery and the depression. I still can't believe I went through all of this and have so many scars around my ears and on my neck from the drainage tubes.. But now I hide in my hair or hid the scars with make-up.. Feeling a little better after 1 1/2 years. But don't where my hair up in public. oh and the $9000 shezz.. Please be prepared if something should go wrong, you could end up spending more to have yourself fixed..
Posted by Lynn3321
Revision Rhinoplasty
I can't think of a negative thing about my experience with Dr Gross or his staff. I went in for a consultation after seeing Primers's ad in the Orlando Sentinel and then visiting their website. I saw Dr Gross's ad in the Orlando Sentinel and looked up Primera's website and was impressed with what I saw. I made an appointment for a consultation and was so pleased with the attention I received. Dr Gross was very thorough in his exam and explaination of what it would take to make the necessary corrections. I felt very confident in his abilities. His staff was wonderful and very helpful before, during, and after the surgery. I'm so pleased with my whole experience at Primera and would recommend anyone considering Rhinoplasty or Revision Rhinoplasty to trust your nose to Dr Gross and staff. I am very happy!
Posted by Burr123
I have enjoyed working with Dr.Gross and his delightful and talented staff.
Posted by Taycat
Mini Lift
The whole experience was positive from the encounter with the receptionist, to the nurses, and Dr. Gross. The professionalism was consistent throughout the whole process.
Posted by 01
After lots of research...had to go with the best! At first I had my concerns but after some research and talking with Dr. Gross and his very professional team I knew I wanted to go through with it. I'm so glad I did! The results are better than I imagined and Dr. Gross and his team were very helpful throughout the entire procedure. Thanks so much!
Posted by Sassygrl123
Super smooth procedure and Diane made me feel relaxed and comfortable throughout. Can't wait to see the results! The entire experience from start to finish was smooth and everyone was super friendly and welcoming. I can't wait to come back to have my next treatment with Diane.
Posted by Yankees1234
Heard good things and did not disappoint. I liked the entire process. The Dr was awesome and the staff is top notch. From day 1 everything was explained and was as stated. Any procedure that you need, you should look at Dr. Gross before any. Also the aftercare was great and if I had any questions they were more than helpful. Overall a great experience.
Posted by mghorayeb
Dr. Gross is very thorough, effecient and meticulous. He spent a lot of time with me and made me feel very comfortable about my decision. I never felt rushed. I was impressed from the minute I made the call to schedule my rhinoplasty consultation appointment, and the experience only got better. The facility is clean and state of the art. The staff is knowledgeable, caring and friendly. And when it comes to fillers, nobody does it better than Michelle. Dr. Gross is very thorough, effecient and meticulous. I am so happy that I chose Dr. Gross for my plastic surgeon. My nose is perfect, and no other plastic surgeon could have given me these results. Thanks to him, I have gained my confidence, and I actually like what I see in the mirror now. Thank you Dr. Gross and Staff! Mary
View all reviews
Treatments offered at Primera Plastic Surgery
Blog Posts and Articles
With so many advancements in facial plastic surgery over the past 20 years, it's easy to see how many people can become confused about the difference between the traditional facelift and the more recent emergence of the minilift. A facelift should actually be called a lower facelift and necklift. This would give patients a clearer definition of what the actual procedure corrects. When the problems are confined to the jowls and neck, a lower facelift is exactly what is needed....
Rhinoplasty, or nose surgery, is the most common procedure performed by Dr. Edward J. Gross at Primera Plastic Surgery. Rhinoplasty is a nose-reshaping surgery that can correct deformities or make subtle aesthetic changes for cosmetic purposes through various rhinoplasty techniques If you're self-conscious about your nose, you may be a good candidate. Whether due to a birth defect, injury, or age-related changes, rhinoplasty surgery preformed by a board certified facial plastic...
Education / Training
Undergraduate:
B.S. Chemistry & Biology, University of Miami, Cum Laude

Medical school:
University of Miami School of Medicine, 1989
Internship:
General Surgery, Tufts New England Medical Center

Residency:
Otolaryngology Head & Neck Surgery, Tufts & Boston University

Fellowship:
Facial Plastic & Reconstructive Surgery, American Academy of Facial Plastic & Reconstructive Surgery