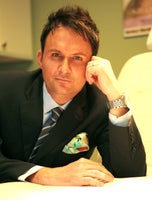 Marc DuPere, MD
11 reviews
101 Expert Answers
179 John Street, Suite 209
Toronto
,
ON
M5T 1X4
Canada
About Marc DuPere, MD
Marc DuPere, MD practices in Toronto at VISAGE CLINIC as a Plastic Surgeon, board certified by Royal College of Physicians and Surgeons of Canada - Plastic Surgery. Dr. DuPere was invited to join RealSelf in 2010, and has achieved "Distinguished Member" status. The doctor has 12 years of experience providing cosmetic and aesthetic medical services, and is a member of American Society for Aesthetic Plastic Surgery (ASAPS) and Canadian Society of Plastic Surgeons (CSPS).
Featured Patient Reviews
Posted by Alexis O.
Breast Implant Revision
I have to preface this by saying that I rarely give reviews. Since my surgery I believe that both women and men seeking a fantastic PS should consider Marc DuPere. My close friend who works in a prominent global pharmaceutical, medical devices and CPG manufacturer pointed me to Marc DuPere as one of Toronto's top plastic surgeons. It is with due diligence that this manufacturer measures the efficacy and rating of the plastic surgeons served. Dr. DuPere is regarded as "Top in Class" with one of the lowest percentage of incidences in his field. His website content resonated with me also. Upon meeting Dr. DuPere for a consultation, my already positive impression of him was further heightened by the amount of information, patience and thoughtfulness he and his staff provided me. My significant other joined our meetings and, even he agreed that Dr. DuPere is top-rate. While results speak louder than words, my post-surgery experience with him and his team went above my expectations. Best of all, Dr. DuPere delivered what he promised. I have most certainly lucked-out with Dr. DuPere, my new secret weapon for graceful beauty.
Posted by rhino.pt.
Dr. DuPere is extremely specialized with injectables and he performs all the treatments himself.
Posted by E.T.
Dr. DuPere performed my rhinoplasty about a year ago. He discussed my surgery with me in great detail while answering all my questions with kindness and patience. Dr. DuPere made me feel safe and comfortable throughout my healing process and the end result was natural and exactly what I was hoping for...I am absolutely thrilled with the results!
Posted by patrysloan
Facelift
He was recommended by my sister who had the same procedure done 2 years ago and her breast lift last year. She was thrilled with the doctor's manners and results. I met with the Dr 3 times, my husband could be present, and we received detailed explanations from the doctor. The doctor was very personable and I would recommend him and his staff to anyone who is looking for aesthetic surgery!
Posted by Andrea29
I had a previous experience before and was very bad. I am very happy with my results and I was referred to him by my sister family doctor. I saw Dr. Dupere in consult and he was just amazing. We have a full hour with just him and I. He explained everything so well and with such detail. He also never said one bad thing about my previous surgeon, which really showed to me that he is so respectful and kind. He did my breast augmentation and I love them. I look few pounds lighter they are more full on top and I have had so many compliments! The staff is great and so nice. Anytime I had a question it was answered with detail and respect and no one ever seemed annoyed or irritated. I felt very welcome to everyone in the office. It is truly a pleasure to go into the office. It is 7 months now since I had my surgery and my mother will have her tummy tuck with him as well. Thank you Dr. DuPere!
Posted by GMG66
Juvederm
I have lived with the stigmatizing and saddening effects of Facial Lipodystrophy for 17 years. I saw Marc first appx. 10 years ago (things/issues in the field of "wasting" were largely an unknown) and he and I talked about potential solutions for me. I went ahead with his advice, which while avant garde was also carefully dispensed so as to manage expectations on each side - his and mine. It was successful. 10 years later, much more wasting conflated with ageing, and I call on Marc again. Of course, treatments have expanded and improved over the time away and he and I come up with a plan that will help ease the effect of time, stress, sadness...each of which are a significant component of my self esteem. Some 13 vials of Voluma over 2 visits to his office, 3 hours (much of which was spent with him assuring, reassuring, listening and listening again) of his gentle and precise manner/intelligence, and I am now full where I was hollowed. Bright where there were shadows. I did not intend that too sound flaky however there are few words that explain the feeling(s) that are associated with relief, comfort and a semblance of acceptance of the way in which I perceive the way(s) in which others view/see me. Thank you, Marc.
Posted by cm009
The office is comfortable, quiet, and private. The appts. were on time. Dr. took as much time as I needed to answer all my questions. He was very honest with me. He asks for several follow-up appts for scar observation, healing and pain management and any other questions that I have. I have never met a more compationate doctor.
Posted by menssurgery
Pec Implants
If you read my TT review, you will know why he deserve even more than 5 stars
Posted by Happy Pecs
Pec Implants
Because this Surgeon cares. He takes pride in his work....
Posted by menssurgery
Male Tummy Tuck
Well, if you read my full review, you will find out why he deserves 5 stars and more if available
Posted by annette4011
Breast Augmentation
my ratings are based on everything to do with my surgeon from first meeting to surgery
View all reviews
Treatments offered at VISAGE CLINIC
Education / Training
Undergraduate: Sciences, College of Jonquière, Jonquière, Canada 1991
Medical: MD, McGill University, Montreal, Canada, 1996
Residency: Plastic Surgery, University of Toronto, Toronto, Canada, 2001
Fellowships:
Facial & Breast Surgery, Paris, France, with Dr. Daniel Marchac, Dr. Gilbert Aiach, Dr. Natalie Bricout and Dr. Sylvain Pétouin
Facial Plastic Surgery, with Dr. Bruce Connell, CA, USA
Fat grafting and Skin Care, with Dr. Patricia Wexler, New York City