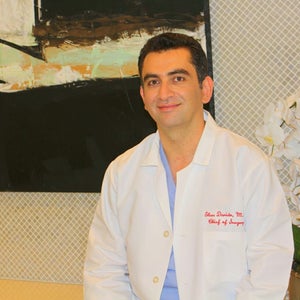 Elias Darido, MD, FACS
Elias Darido, MD, FACS
Houston Bariatric Surgeon
4120 Southwest Freeway, Suite 230
Houston
,
Texas
77027
US
Last contacted by
a user

...
Reviews
(3)
5.0 stars from 3 reviews
See details
Hide details
Doctor's bedside manner
Answered my questions
After care follow-up
Time spent with me
Phone or email responsiveness
Staff professionalism & courtesy
Payment process
Wait times
Sort by:
Featured

Highest Rating

Lowest Rating

Recent
Sleeve Gastrectomy
It was a long battle of weight gain, yoyo diets and never being able to keep the weight off. I came from a family history of diabetes, high cholesterol, fried foods and no exercise. I finally made the decision to have the surgery. My overall experience was great! Dr. Darido was very attentive to me. His complete program was wonderful, I had support the whole way through, he has an excellent...
Having surgery was one of the best decisions I've made. It changed my life in many positive ways where it allows me to enjoy my life to the fullest. I'm able to be more active and social with both my family and friends which is something that I always struggled with. Highly recommend both the surgery and Dr. Darido.
Sleeve Gastrectomy
Dr. Darido was great from the very first encounter. First, I started working with his dietitian, kim. Over a period of 3 months I dropped 24 pounds and stopped the insulin. Then we decided to go for the sleeve. Surgery went very well. The hospital staff was great and very supportive. Dr. Darido checked on me daily and when I was ready I went home. Over the past one year I lost 115 pounds. I no longer take medications for high blood pressure. My sugar level is normal and I can walk 4 miles a day with no back pain. Thank you Dr. Darido !!
*Your results may vary. Any specific claims or permanence length of results vary for each patient and are not guaranteed.
Personal Statement
Dr. Darido's goal is to provide an effective treatment for obesity based on the latest scientific discoveries in this field. Dr. Darido is renowned for his expertise in the surgical treatment of morbid obesity and diabetes. He has developed several procedures for treatment of obesity and diabetes.
Board Certifications
Board-certified by the American Board of Surgery - General
Memberships
American Society for Metabolic and Bariatric Surgery (ASMBS)
Consultation Fee
Free. Several financing options are available at two convenient locations
Awards & Recognition
Awards:
Metropolitan Group Hospitals ABSITE Star Award, 2001 - 2002
Surgical Resident Research Award, American College of Surgeons, Ohio Chapter, 2004 - 2005
Hospital Privileges
Dr. Darido has hospital affiliations at Methodist Medical Center, First Street Hospital, Bay Area Medical Center, Memorial Hermann Memorial City.
Education
Undergraduate & Medical School

Undergraduate: BS, Biology, American University of Beirut, Beirut, Lebanon
Medical: MD, American University of Beirut, Beirut, Lebanon

Post-Medical School Training

Fellowship: Bariatric and Advanced Foregut Laparoscopic Surgery, Department of Surgery, University of North Carolina, Chapel Hill NC
Residency: General Surgery, Good Samaritan Hospital, University of Cincinnati, Cincinnati, OH
Internship: General Surgery, Metropolitan Group Hospitals, University of Illinois, Chicago, IL
Treatments offered at Houston Weight Loss Surgery Center
Show More
Blog Posts and Articles
There is no better alternative to home cooking when it comes to a healthy lifestyle. "Cooking is probably the most important thing you can do to improve your diet," says Michael Pollan in his book, Cooked: A Natural History of Transformation. "What matters most is not any particular nutrient, or even any particular food: it's the act of cooking itself. People who cook eat a healthier diet without giving it a thought. It's the collapse of home cooking that led directly to the...
Most popular answers from Elias Darido, MD, FACS
Narrow by:
Sort by:
Recent
Highest Rating
Lowest Rating
Before and After Photos by Dr. Darido
Elias Darido, MD, FACS has shared 2 before and after pictures with 122 helpful votes from the RealSelf community.
Videos by Elias Darido, MD, FACS
Elias Darido, MD, FACS has shared 2 videos.
Narrow by:
2:05
As Brent prepares for his gastric sleeve surgery, he shares tips on how to eat healthier without missing out.
WATCH VIDEO
2:15
Dr. Elias Darido performed Sleeve Gastrectomy on this man. Hear how he's feeling after losing 45 pounds.
WATCH VIDEO
Additional Office Locations
13920 Osprey Court, Suite C
Webster, Texas 77598
USA
P: (832) 945-8717
Not ready to contact yet?
Keep up to date with:
before & after photos
reviews
answers
Not ready to contact yet?
Keep up to date with:
before & after photos
reviews
answers