Join our mission to bring confidence to people worldwide
The RealSelf Fellowship awards funding to medical professionals who donate their time and expertise to deliver care and training in underserved communities around the world.
Each Fellow receives $7,500 to be applied toward a nonprofit-sponsored humanitarian trip with the potential to further the RealSelf mission to bring confidence to people worldwide.
Are you planning a trip that will make a real impact on global access to necessary reconstructive surgery or medical treatments?
Apply for a RealSelf Fellowship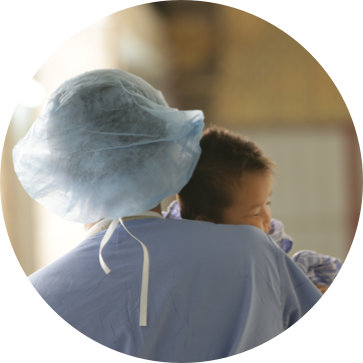 Supporting humanitarianism among medical professionals
More than 5 billion people lack access to basic surgical care to help reparable conditions like birth defects, burns, and other injuries.*
That's why we launched the RealSelf Fellowship—to support vital, life-changing humanitarian trips that make a real impact on people's confidence and quality of life.
*The Lancet Commission on Global Surgery
"Through the RealSelf Fellowship, we hope to ensure transformative care for those most in need and furthest from access."
-Tom Seery, RealSelf CEO
RealSelf evaluates applications once per year in December
The fellowship is open to physicians and surgical care team members who volunteer their medical services or serve as volunteer educators in communities most in need.

We are now accepting applications for trips taking place between February 15, 2018 and February 14, 2019.
Application deadline - December 1, 2017
Award notifications - January 15, 2018
Meet the RealSelf Fellows
To date, RealSelf has granted more than $250,000 supporting humanitarian efforts abroad.
Our Fellows have partnered with organizations like ReSurge International and Project Medishare to volunteer their medical services where there is tremendous need for free access to reconstructive surgery and training.
---
Eligibility & FAQs
Have questions about the RealSelf Fellowship?
Visit our Eligibility & FAQs page to learn more about the application process.
Our Giving Team also wants to hear from you.
Please send your questions and feedback to giving@realself.com.