Does Anybody Know How to Properly Measure for Breast Size?
By Vivalv66 on 17 Feb 2012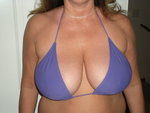 I tried this way...measured band size under breast with unpadded bra on. 36in added 4. 40 in. measured around fullest part of breasts 44in. subtracted and got a 4 for cup size which is a D. No way I am 40 D. I am larger.