Beaverton Breast Implants Doctors and Reviews
Average cost in US: $5,975
Average cost in Beaverton: $6,275

75% of Beaverton reviewers said Breast Implants was worth it
Featured Doctors

RealSelf Sponsors must meet eligibility requirements to qualify as a featured doctor.

Elisa A. Burgess, MD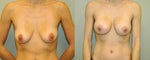 Ask about saline or silicone options
Call Dr. Burgess (503) 946-6481

Kathleen Waldorf, MD, FACS

Achieve full, natural-looking results
Call Dr. Waldorf (503) 406-6652

Michael F. Bohley, MD

Wondering which options are for you?
Ask Dr. Bohley (503) 444-9527
Join RealSelf
Join the world's largest cosmetic surgery community.