45 year old mother of two- SUPER SWOLLEN....Upper / Lower Abdomen And Flanks
not sure
CoolSculpting
$4500.00 USD
---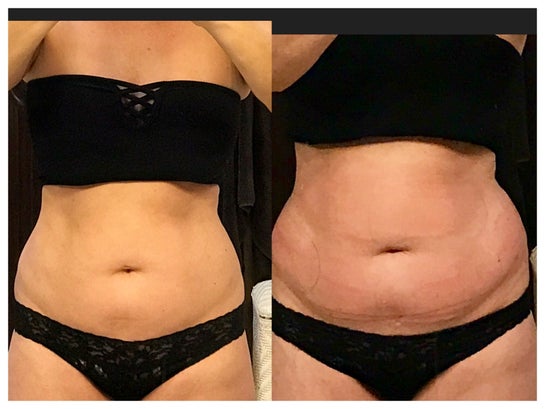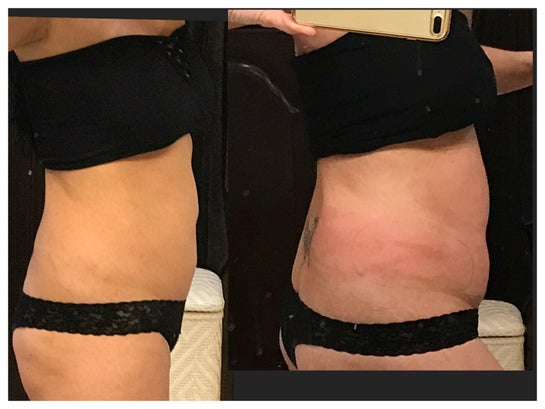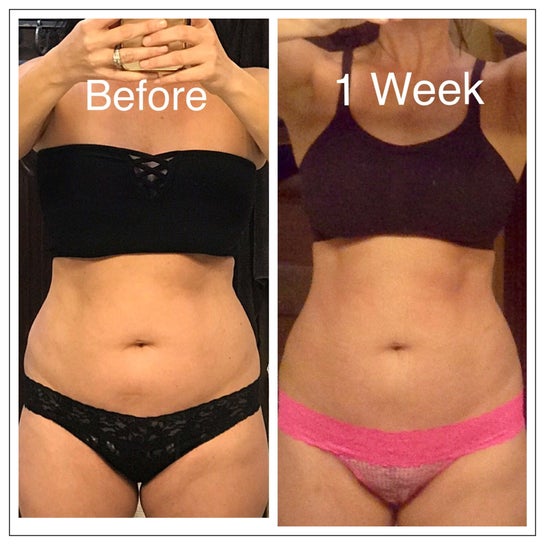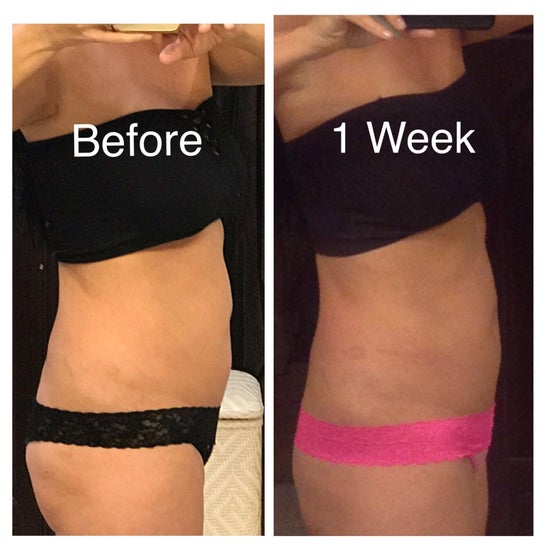 Story Update
16 Mar 2017
2 days post op
45 year old mother of two- Upper /Lower abdomen And Flanks
Yesterday I received my treatment I chose to do upper and lower abdomen along with my flanks (muffin top) for a total of eight sessions each section needed to be done in two parts. When she first placed the suction cup it was an awkward feeling but not painful, Each section will take 30 minutes. She then pressed the cooling button and the first 10 minutes was a cooling / stinging sensation pretty uncomfortable... yet bearable. After the 30 minutes she removed the machine to massage the area and break down the crystallized fat cells, that was extremely tender and more than uncomfortable, but I was able to breathe through it! I did notice that the section of my inner flank area was the most painful and tender of all the other areas, but again nothing a little breathing technique couldn't get me through. I am very red, tender, numb and extremely swollen I actually look about four months pregnant!!!!! My technician Renée mentioned that the numbness will last about a month and the swelling about a week. I will post my before the procedure picture and immediately after the procedure so you can see exactly how swollen and red the area becomes. I will also add a short video of her removing the suction off of my lower right abdominal area. And I will keep you posted on the days to come... I am a bit nervous about some comments I have read on this forum about post procedure nerve pain that seems to begin on day 3 and can last through the day 10. My technician recommended wearing spanks or a compression belt for the first 10 days it will help constrict the abdomen which will help with swelling and the uncomfortableness. She also suggested Arnica cream and /or tablets. Or even ice pack or heat pad to help with dis comfort. As of right now after the procedure anything that touches my abdominal area hurts I can only describe this feeling like a bruise that someone continues to poke. I just feel like one huge bruise!! Wish me luck in the days to come!!!
Day one post procedure: I lathered my belly in with arnica cream and I slept with a pair of high waisted spanks I had a pretty restful night as long as I didn't move around! The redness has lightened but is still there. I continue to rub the arnica cream throughout the day and wear my spans. I have yet to anything for pain....(fingers crossed) I I am starting to notice some bruising.
Story Update
18 Mar 2017
4 days post op
Day 3: Post procedure : So far so good...
So I've made it thru the third day following my CoolSculpt. The tenderness has subsided somewhat ( I can actually sleep on my stomach now) and the redness is gone. I am still pretty swollen, I haven't measured but I feel and look much bigger than b4 the procedure. So far I haven't had to take anything for pain, I have worn my spanx or compression tank top loyally and I truly feel like that has been my saving grace! My right side flank is where I have all my bruising (I'm actually shocked becuz I thought for sure I would be way more bruised up)? Although I have continued to use Arnica cream and tablets. I really think that is helping a lot. ITCHY! I'm super itchy! And it's not just a surface itch, it's deep under the skin so there's really no way to satisfy the itch! LOL - I find myself rubbing and lightly massaging along the itchy area and eventually it goes away. Oh and I have to say that I have been urinating more than usual. ( I hope that's my body flushing out all those dead fat cells!) So I'm going into Day 4, and I have yet to experience any of that terrible nerve pain.... Praise God!!! So Far, So Good!!!
Story Update
20 Mar 2017
6 days post op
Day 5 update...
Ok so, I've made it to day 5 after my CoolSculpting procedure with out any of the terrible nerve shooting pain that other people have experienced!!!!! YAY!! (Fingers crossed) The bruising pain that I described in my last update is completely gone. I am also wearing my compression tank top Loyally, I even sleep in it! Originally I was wearing it to help with the sensitiveness when anything touched me but now it's just for the extreme swelling, it helps me feel more secure and holds me in. The bruising itself is completely gone. I am still pretty swollen and VERY ITCHY! Im continuing to take the Arnica tablets AND rub the Arnica Cream all over the treated areas. Every area is still completely numb! Such a strange feeling (you can feel it but you can't?) it's weird. Ok- Try this.... press your hand in a "high-five" position up against another persons hand, now with your other hand, use your index finger and thumb to rub up and down each side of your (and their) index finger..... Weird Sensation, right? THAT IS WHAT MY ENTIRE MID-SECTION FEELS LIKE. Haha- anyway, now that we've had our science lesson for the day, I will end this update with a, " So Far So Good," Until next time.....
Story Update
22 Mar 2017
2 weeks post op
One Week Update... Feelin Good!
Well I made it to day 7.
Story Update
22 Mar 2017
2 weeks post op
One Week Update... Feelin Good!!
Well I made it to Day 7. My entire midsection is still numb but absolutely no pain or sensitivity. The itchiness has subsided some-what? Still itches but not as frequent. I took my one Week pictures (which I have posted) I'm not sure if I see much of a change? It maybe looks a little more smooth? But my belly feels more soft and jiggly than before? I'm hoping it's the dead fat cells trying to find a way out?!? Haha- I also took my measurements b4 and at 1 Week and I have actually gotten bigger! ??? I think I'm still a little bit swollen? *I sure hope that's the case* I will continue to take After pics and measurements...Waiting for the 3 month mark is going to drive me Nuts!!!