360 Body Lift
*Treatment results may vary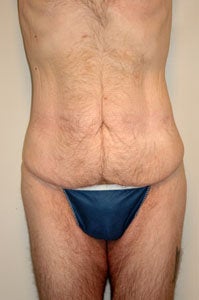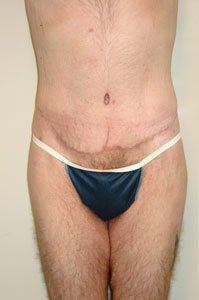 213 of 2125
Was this photo helpful? {{ voteCount + ' other' + (voteCountOthers == 1 ? '' : 's') }} found this helpful
This 35 year old male lost ~180 lbs after RNY gastric bypass. His cosmetic concerns were an abdominal pooch, and excess skin/fat, around the trunk and lateral thighs. The patient also complained of a sagging buttocks.
The goals of this operation were to safely remove excess skin and fat, to tighten the deep supporting structures, and to create an aesthetically pleasing, masculine appearance.
The supporting structures were stretched, resulting in an "upside down" v deformity of the navel, a small panniculus (abdominal skin apron), and sagging of the lateral thigh and buttocks.
The improvement in the appearance of the navel is seen on front view.
The fullness in the lower back/love handle region is best seen in the quarter view, and the improvement is seen in the postop view. The sagging of the outer thigh is also seen in this view, just below the photo garment, and looks like a "divot". Its correction is seen in the postop view.
The quarter view also demonstrates the position and shape of the gluteal region. Postop, there is a significant "lift", and the shape is improved.
The posterior view demonstrates the fullness running from the lower ribs to the pelvic bones. Additionally, this view demonstrates sagging of the gluteal region. Postoperatively, the love handles from lower rib to pelvis is much more sculpted. The buttocks is lifted, and the gluteal creases (just below the photo briefs), have been improved, and one crease on the patients left, was eliminated.
Time since surgery: 6 months.
Additional information: This patient had a maximum weight of 362 lbs, and a BMI ~46. He lost an additional 10 lbs since surgery. His Maximum pants size was 56, and at the time of surgery his size was 34. Post op, his size is 30/32.
The scars are fading as they heal, and should improve greatly over the next year or so.