25-34 year old woman treated with Breast Implant Revision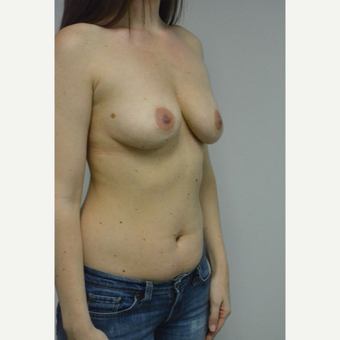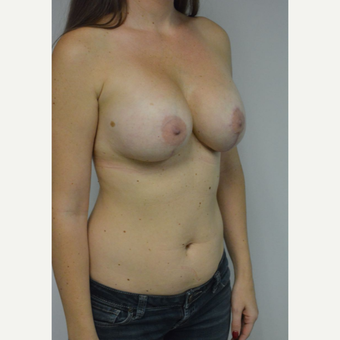 Was this photo helpful? {{ voteCount + ' other' + (voteCountOthers == 1 ? '' : 's') }} found this helpful
A challenging case of a woman in her early 30's with a right implant deflation, and bilateral fold malposition. She had breast augmentation down south when she was 21. She was small C at the time and wished to be a full C. Her records were obtained and show that 500 cc high profile saline implants were placed below the muscle through a periareolar incision. She was a 34D-DD after her surgery and was having issues with back and shoulder pain due to the new size of her breasts. She came in to see us after her right implant had deflated. She did not like her breasts falling off to the side and the loss of fullness in her upper breast. She wished to be smaller but still a full C. Our plan was to deflate her left saline implant in the office and let her breast recover for at least 4 weeks before surgery. In the mean time she made the happy discover that she was again pregnant so we went ahead and deflated her saline implant in the office so that her breast would not stretch even more with her pregnancy and then waited until 6 months after her pregnancy to let her breast resume its normal volume and perform her surgery. We sized her again in the office and she liked a 375-400 cc volume the best. She is 5'7" and 145 lbs. Typically the volume of an implant will drop into the lower breast after it has been stretched with pregnancy or prior implants and not give lasting fullness in the upper breast. In order to help maintain some fullness in her upper breast, she elected for a round, high profile silicone gel implant. Texture was chosen to help stabilize the implants and decrease stretching of the lower breast and lateral shift. The Sientra gel is "form stable" in their round implants and is the most cohesive of the choices so this was selected for her. A 415 high profile textured round implant was placed after performing a capsulorrhaphy ( a suturing internally to tighten the prior implant space which had been overly stretched) and a bilateral mastopexy. We had Seri Scaffold available in the OR to reinforce the internal capsulorraphy repair but is was not needed.
She is shown now 4 months after her surgery. Her scars will continue to fade over the next 18 months or longer,. She has maintained fullness in the upper breast and prevented shifting of the implants to the side.
By uploading this photo, Jonathan Hall, MD has agreed with RealSelf.com policy that they've secured proper patient consent.