FUE – BHT Using Only Body (Leg) Hair to repair Hair Line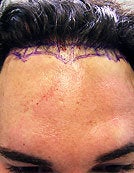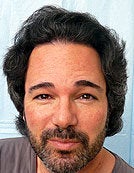 29 of 953
Was this photo helpful? {{ voteCount + ' other' + (voteCountOthers == 1 ? '' : 's') }} found this helpful
Hair Loss History: The patient has a history of several strip style hair transplants also known as Follicular Unit hair transplantation. While this gave him a lot of hair, he was left with very pluggy looking hairline that he has had to hide and be self conscious about for years.
Surgery: I used about 1050 leg derived grafts to refine his hairline back in 2006. He is shown here at 4 years after his surgery of 2006. He has maintained his result and has since forgotten about his problem hairline.
Lessons: Thus far, state-of-the-art hairline design using strip HT and scalp FUE has entailed the use of single hair follicles derived from the safe zones. The relatively thick caliber of this donor hair can often contrast with the naturally thinner hair that populates the hairline especially in a NW 1-2+ patient. This problem though not immediately apparent to the unpracticed eye, can be a give away to a discerning observer. A NW 2 hairline with a wall of thicker single hair follicles can sometimes impart a somewhat unnatural look that can be made worse by a higher scalp to hair color contrast. Alternative measures that have been used to address this issue include the selection of hair from the temporal scalp area (in strip HT), or the peri-auricular areas (near the ears)/nape of the neck (in Scalp FUE ). The advent of BHT has presented us with another option. An increasing number of patients are beginning to request the use of cherry picked finer and like textured body hair to feather out what was hitherto considered a good HT derived hairline. In other words, we seek to use a perceived disadvantage of some body hair (namely thin caliber) to our advantage, namely to give the hairline the subtlety that is expected in a natural for.

By uploading this photo, Sanusi Umar, MD has agreed with RealSelf.com policy that they've secured proper patient consent.