African American Rhinoplasty
African American Rhinoplasty
*Treatment results may vary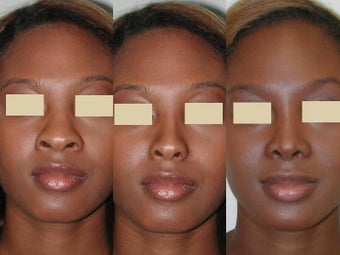 51 of 347
Was this photo helpful? {{ voteCount + ' other' + (voteCountOthers == 1 ? '' : 's') }} found this helpful
23 year old African American Female complaining or wide nostrils and boxy tip.
The photo shows a before picture - computer imaging before the surgery and the after result.
An open rhinoplasty was performed reconstructing the tip cartilages. The narrowing of the nostrils was performed using vertical and horizontal narrowing.