Lip Augmentation with Restylane
*Treatment results may vary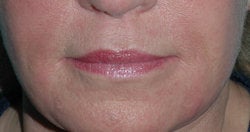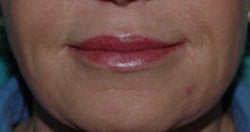 Was this photo helpful? {{ voteCount + ' other' + (voteCountOthers == 1 ? '' : 's') }} found this helpful
This 52 year old lady from Pittsburgh, PA was interested in having lip augmentation. I injected a filler (Restylane) to her lips for a moderate and proportion augmentation. I feel strongly that lip augmentation should look very natural.
On occasion a patient will ask me to augment their lips beyond what I feel is appropriate or natural. In these cases I let the patient know that s/he's not able to inject the additional volume.
In some cases patients request a permanent augmentation of their lips. This is certainly possible with Silicon injections using a highly specialized micro-droplet technique. I do provide this service but prefer the patient try temporary filler first to make sure the patient is comfortable and familiar with the results of lip augmentation prior to embarking on a permanent solution.