Botox Reviews: Why you should write one
Last updated: 2 years ago
It may seem silly to write an in-depth review about something as common and non-invasive as Botox. We all know how essentially it works, right? The truth is chronicling your experience can be really beneficial to you.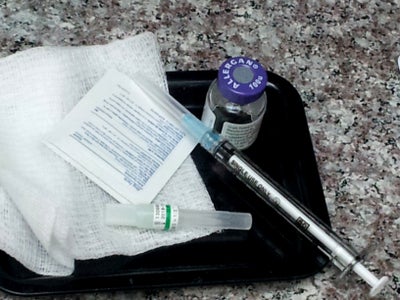 Here's why: 
After a quick treatment like Botox your results will take hold over the course of a few days. Sure there is little downtime, if any; and minimal issues like bruising and healing. But because it is such a subtle treatment it can also be hard to really see your full results. You see yourself multiple times every day, so tracking your appearance will show you effective the treatment is. Your results are probably even better than you realize.  Once your results set in, you can continue to update your review to see how long the botox lasts for you. You can also record anything else you are feeling, like maybe you notice you always feel a little flu after the injections. This will help prepare you for future appointments because you will better understand how your body reacts. So if you always get a red welt on your eyebrow that looks like a bee sting you will know not to schedule your botox appointment the same day of that fabulous party.
Another reason to journal your experience is the social aspect. RealSelf is full of supportive and like-minded individuals who want to follow your experience and talk to you. Whether you keep it a secret or tell everyone you know, new botox friends are just a few clicks away and they will find you by reading your review. And like any good friend they will be able to share tips and tricks and a few laughs along the way. On the flip side, you have community members who will rally behind you and support you should that botox appointment not go so well, and vise versa. So many of us have found some RealSelf BFFs that understand why we undergo anti-aging and cosmetic treatments, unlike that judgy coworker or family member that thinks you are being vain.
Posting updates and pictures/videos also help the new community members that are nervous and want to hear real, authentic stories about what the botox experience is like
. Reading your review will help them decide what is right for them, just like you might have spend your fair share of time devouring reviews before your first appointment.


Feeling inspired to write a fabulous botox review? Here are some tips to make it informative and great:
Photos and video, little details, and all the other things you will probably forget before your next appointment 
-Start a review before your botox appointment. Take before pictures of your face both at rest and making large expressions (you know, the crazy faces that make your wrinkles really show) from multiple angles. Take video with your cell phone or webcam moving your face. This will also help you decide what areas of your face you want to have botox injected. You may realize you need less than you thought. 
-Post how many units of botox you receive and what areas they were injected. This will help you remember later what you had done. If you found you had too much facialmovement or your face felt way too frozen you will be able to tell your injector at your next appointment and ensure you get more or less botox. Trust me, it can take a few appointments before you find that perfect amount of units and locations to inject- be proactive so you spend less time with sub-par results.
-Take daily pictures and/or videos until the botox has completely set in. It is really interesting to see the subtle changes over the first week.
-Once the botox is in full effect you can take monthly pictures/videos. While this may seem silly to you, it will actually really help you monitor how the botox wears off and when to get more. You can compare your before pictures and videos to your current pictures and videos to see if you are back at square one or if you still have some lingering results. This can save you money, and who doesn't love that.
-Don't forget to write about how you are feeling, if you notice anything going on with your body or mind after your botox treatment, etc.
Worried about privacy?
Hey we get it, posting full face photos on the internet for all to see may not sound like your cup of tea. You can always crop photos to make then anonymous and protect your privacy. Always share what you are most comfortable with.
Not "a writer"?
You don't need to consider yourself a strong writer, either. Don't let fear of grammatical error or poor grades in high school English deter you. The truth is, it is less about writing a page turning story and more about journaling personal experiences. You get an A+ regardless.
So go ahead and update that existing botox review or start your first one. The 
botox community
can't wait to follow your experiences and get to know you better.