Mixed Head and Body Hair...
Mixed Head and Body Hair FUE – SFET Hair Transplantation from Nape, Beard, and Body Hair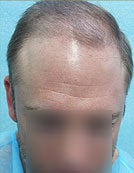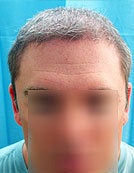 24 of 554
Was this photo helpful?
Hair Loss Level: NW 6 Surgery: Surgery I: 15000 grafts derived from the head, nape, and chest added to the entire NW6 area and the creation of a NW0 hairline Surgery II: 5000 grafts derived from the Head, Nape, Beard and chest hair added to the crown, hairline and mid-scalp for density.
Lessons: It would be impossible to restore a NW6 hair loss to a NW0 extent with the traditional strip hair transplantation surgery. A traditional hair restoration strip surgery approach would have relied on only the donor hair available in the middle of the back and sides of the head. This would have yielded about 6000 grafts at the most in this patient. This would have been grossly inadequate in meeting the goals of this patient. In fact many strip surgery clinics would consider this patient a poor candidate due to the limitation in donor supply imposed by the strip surgery method. Using SFET and "Umar procedure", I was able to add beard and body hair into the donor pool and achieve the goals of this patient 3 years ago. After the second surgery which brought the total graft count to 20,000 the patient is ever more confident in keeping a short hair cut because of the high hair density in the transplanted area. This kind of global coverage at the density he now has it is impossible to attain in a severely bald individual using traditional strip surgery because of donor limitations. With the "Umar Procedure" the patient has achieved this with even more donor hair to spare in the future for more transplants. The procedure is minimally invasive as evident by the picture showing the patient quite relaxed in the clinic patio overlooking the Pacific Ocean. He is able to catch up on his business needs on his phone and laptop during his lunch break. A patient is typically sleeping, watching TV or a video of choice during the actual procedure. While hair cloning, hair multiplication and other cell based hair technologies remain subjects of intense research, body hair transplantation is available now as a real hair restoration option for some including those with severe hair loss that would hitherto be considered poor hair transplantation candidates. It is available at a fee that is average for hair transplant costs.
By uploading this photo, Sanusi Umar, MD has agreed with RealSelf.com policy that they've secured proper patient consent.