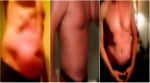 Tummy tucks aren't just for women -- the guys are getting it too. Here are 10 of the most commented-on and complimented male tummy tucks.
3 thank yous, 1 comment
This one's for the guys: If you're a man who's looking for a tummy tuck, we've asked Dr. David Stoker the essential questions about the procedures --...
Male Tummy Tuck Newsletter
Sign up for our newsletter to receive the latest stories, photos, and expert answers.
Get Newsletter