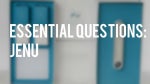 Can you use JeNu if you've dabbled with fillers? What about Botox? Or over your eyelids? Dr. Reichel and Dr. Baxter answer these burning questions below.
Real people reveal their real experiences using JeNu.
JeNu Newsletter
Sign up for our newsletter to receive the latest stories, photos, and expert answers.
Get Newsletter