Results 2 weeks after labiaplasty and hoodectomy
By 7449anon on 30 Mar 2010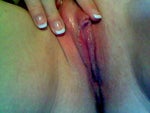 I had labiaplasty/hoodectomy 2 wks ago. The left labia is tiny and flattens out below the clitoris. Which then leaves the clitoris sticking out at a 90 deg. angle. The right side has a nice even line up to where it attaches to top of the clitoris. It seems like they should attach at the same place and look symmetrical. If it was a swelling issue, I'd understand but it's not.
Is this normal to have results this soon after the surgery that look so wrong?
View 9 doctor answers to What is Labiaplasty?