What are you doing to recognize Breast Cancer Awareness month?
By BethH on 11 Oct 2013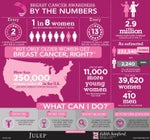 The older I get, the more women I know who are faced with the battle of fighting breast cancer. The statistics can be frightening, but fortunately, there are some survival rate numbers. My children and I collect Yoplait yogurt lids. Yoplait will donate 10 cents per lid to breast cancer research. My daughter also wears pink basketball socks during her October tournaments to honor breast cancer awareness.
Share this Forum with your friends and ask them what they are doing to help fight breast cancer!