Anyone doing Lift and Augmentation this February?
By agathaou on 05 Dec 2012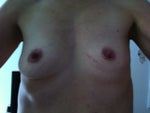 Is anyone doing a lift and augment around January or February of 2013? Would love to have some 'friends' in the same boat. My breasts are a nightmare. (see picture), different sizes, droopy. I'm posting my before shots here. I'm worried about recovery and how long I can't pick up my very heavy (almost 30 lbs!) baby. Very excited but very nervous!