Invisalign is amazing!
By bpoton on 05 Jan 2012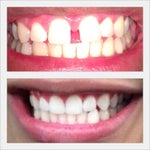 I started the invisalign treatment on january 12th, 2010. I was very worried and skeptical at first seeing that they were just plastic trays. Let me assure you though, it works wonders with smaller problems. All I had was a huge gap between my two front teeth and now my teeth look amazing. I ended treatment on January 4th, 2012. I'm not sure how effective it is on bigger problems but my experience was great. I hope you guy's start treatment as well!