Are high profile implants suitable for me?
By gv55 on 10 Mar 2010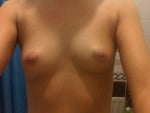 Hi, I want to have breast augmentation, and i wonder if high profile silicone implants would be suitable for me? my measures are: 75cm under breast, 81cm throughout breast and 12cm breast base. I'm adding photo too. Thanks for ur help.