One Eyelid Feels Paralyzed!
By sandiegoliving on 07 Jan 2013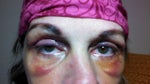 I have one eye that wont open more than half way since surgery 5 days ago....but the other one is healing and behaving great. Has anyone experienced what feels like "a paralyzed eye"? If so, did it heal properly with time?