Has anyone used Dr. Marcadis is Tampa, FL? How was experience?
By UGAgirl on 18 May 2011
Featured Doctors

New Jersey Mommy Makeover
Sanjay Lalla, MD, FACS
14 reviews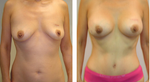 Get your pre-baby body back
Call Dr. Lalla (973) 241-5369


RealSelf Sponsors must have at least a three-star rating to qualify as a featured doctor.