Asymmetrical or Crooked Nose After Rhinoplasty?
By maryjane09 on 20 Mar 2010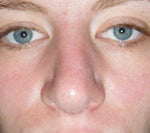 I had rhinoplasty done 3 months ago. I didn't mind my nose from the front but the profile needed work. Now, the profile is improved but my front looks terrible. I feel like it leans to the left and there is a large bump, causing it to look very asymmetrical. Also, the tip is large and hangs down more. Will any of this go away? I'm mostly concerned about the bump on the left side, as it makes my nose look very asymmetrical.
View 21 doctor answers to Crooked Nose or Uneven Swelling After Rhinoplasty?