Asian Blepharoplasty Expert in Orange County, CA?
By jv179 on 02 Dec 2011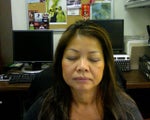 My upper eyelids started drooping a few years ago, my lower eyes look horrible from insomnia. I want to restore my eyes to youthful look WITHOUT changing the shape. I DON'T want to have Western eyes. I am 50 yrs. old Asian female, always had nice big eyes with 2 folds (not just 1, unsual for Asians!). Can someone please recommend an expert in Orange County, CA area? Many thanks.