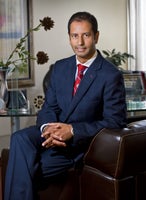 Navin K. Singh, MD
Specials and Deals
$150 off Laser Liposuction
15 reviews
89 Expert Answers
5454 Wisconsin Avenue, Suite 1710
Chevy Chase
,
MD
20815
www.WashingtonianPlasticSurgery.com
About Navin K. Singh, MD
Navin K. Singh, MD practices in Chevy Chase at Washingtonian Plastic Surgery as a Plastic Surgeon, board certified by American Board of Facial Plastic and Reconstructive Surgery and American Board of Plastic Surgery. Dr. Singh was invited to join RealSelf in 2010, and has achieved "Distinguished Member" status. The doctor has 14 years of experience providing cosmetic and aesthetic medical services, and is a member of American Society for Aesthetic Plastic Surgery (ASAPS), American Society for Laser Medicine and Surgery (ASLMS), American Society of Plastic Surgeons (ASPS) and Fellow, American College of Surgeons (FACS). Dr. Singh has hospital affiliations at Sibley Memorial Hospital, Suburban Hospital and INOVA Fairfax Hospital.
Consultation Fee
$75. Free
Featured Patient Reviews
Posted by louiemsw
Dr. Singh is one of the best plastic surgeons in the DC Area..his beside manner is wonderful and his work is impecable. He had to romove implants from 30 years ago and replaced them. They are so natural looking and feel great. I would highly recommend him!!!
Posted by tracey77721
I have been a regular patient of Dr. Singh for over a year now and I trust him implicitly. Dr. Singh has performed both my Botox and cosmetic dermal filler, Juviderm and Radiesse, injections. As a Board Certified Plastic Surgeon Dr. Singh possesses impeccable bedside manner as well as the artistic skill required for these types of procedures. He listens carefully to my concerns and then offers his knowledge as a plastic surgeon to give his honest opinion as to what he believes would look best and most natural without looking "overdone". In fact if I request dermal filler in a place he feels isn't needed, he is honest and explains why. There are numerous plastic surgeons, med-spas etc. in the Washington D.C. area providing these same services however I choose to return to Dr. Singh because he not only is a well-trained skilled plastic surgeon who keeps up-to-date and abreast of new technologies in the fields of plastic and cosmetic procedures, he has the important skill of listening in order to give trusted guidance and in turn the most natural results. Most recently I had a consult with Dr. Singh regarding my interest in having him perform my brow lift. During our consultation he showed me before-and-after photos of other brow lifts patients and his results were truly amazing and natural. Finally, I would also like to comment on the professional staff he has working with him as well as the inviting and overall clean office environment. All the staff has been exceptionally courteous and well informed.
Posted by SamanthaL
I interviewed five differnt doctors and decided on Dr. Singh because he was personable, confident, and upfront with the cost. I could have gone to a cheaper doctor but Dr. Singh was the best match for me and my family. Additionally, you can't put a price on an excellent staff. They really make all the difference. Dr. Singh did a fabulous job on my abdominal liposuction. My clothes fit great and I feel really good. He has also done my botox for the last year and he removed a mole from my 7 year old son's forehead. He did such a great job and was so good with my son that I would recommend him for any of your plastic surgery needs. The staff is very nice and always available. I am considering a breast augmentation and I wouldn't go to anybody else.
Posted by daniela326
Tummy Tuck
Best doc, best staff. Period. Dr. Singh and his staff are exceptional. From the 1st meeting all the way through, they treat you with grace and individual care that is second to none. The end result of my full tummy tuck is better than I could've ever expected. I would recommend them with 100% confidence to anyone.
Posted by Lushis3117
Tummy Tuck
Dr. Navin K, Singh,,,is the Best hands down...
Posted by LornMD
Dr. Singh was the first Doctor I had my consultation with and I knew then he was the one. My friends insisted that I follow the "rules" and have more consultations. Well, after five consultations, I was back to Dr. Singh and did I make the right choice. His bed side manners are absolutely impeccable. His credentials speak for themselves and his masterful hands do the same. My BF calls him Superman because he is soo impressed himself. I could have went with a less expensive surgeon but I'm happy with my choice. All of my friends (men and women) who have seen my new body gave him rave reviews. His staff is also the best.... very professional and personable. It is not the uptight stuck up atmosphere of some of the other offices I've been to. I love Dr. Singh and would gladly recommend him to all of my friends and family.
Posted by sonitavm
Tummy Tuck
Dr. Singh was patient with me and answered all of my questions. He was extremely professional and not pushy at all when it came to suggesting other procedures.
Posted by KL, Bethesda
I am very pleased with the results of my revision tummy tuck and also my breast lift and augmenation done by Dr. Singh. The revision tummy tuck was a difficult procedure, and several plastic surgeons did not think that they could fix it. Dr. Singh felt that he could--and did so successfully. He also did a breast lift and augmenation at the same time, and I love the results of all. Recently, he did my nose, and I am also very pleased with the results. He spends the time necessary to answer all your questions and make sure that the surgery is the right surgery for you, at the right time. His staff is also expceptional. They are courteous and professional. Wait times are very reasonable. We are lucky to have Dr. Singh in the DC area.
Posted by AGO
Laser Liposuction
Dr. Singh is AWESOME. He is an outstanding plastic and reconstructive surgeon that will work with you to ensure you end up with the best results possible -- and he is one cool guy, as well. As a nurse, having worked with many surgeons in my career, he definitely stands out as having one of the best bedside manners I've come across -- and he truly cares about his patients, their results, and how they perceive their results. After years of being thin -- but having an un-losable gut or "flubbertube" around my waist as I liked to call it -- I ended up having laser lipo by Dr. Singh at age 30 (following impressive results from a friend that had the same procedure/area performed by him). I also saw several other surgeons in doing my homework, but was familiar with Dr. Singh having studied nursing at Hopkins, where he has, for many years, served as the instructor for plastic surgeons in training (again, an example of how skilled and revered he is). Ultimately I felt the most comfortable with him and went with him. And I'm thankful I did.
Posted by NewMe1024
Tummy Tuck
Prompt appointment making process. Most amazing staff!!! Great bed side manner and incredible way of making you feel at ease. Plus amazing job and incision placement.
Posted by KL_1978
Liposuction
I had lipo done last year, and now I have horrible lumps. I am very self conscious about the strange looking uneven areas. Even worse, I have found my Dr. to be unresponsive at times to my calls/emails. It is very disheartening.
Posted by rivagirl9
Tummy Tuck
They were great from the first email. Nicole is awesome and my boyfriend and I fell in love with her! I got to meet Dr. Singh last week and he was so nice and I feel very comfortable with him. I have done my research for 2 years now and I thought he was the best and best price. They worked with me and my budget. Not many doctors do that. I can't wait to have my surgery and see my final product.
Posted by Sam in Maryland
Brazilian Butt Lift
A family member had work done by this doctor. I went in for a consultation in January after having my last child and the staff was truly supportive, sympathetic and amazing!!! Now after having the procedure done, Dr. Singh is wonderful and has the absolute, hands down best staff ever!!
View all reviews
Treatments offered at Washingtonian Plastic Surgery
Education / Training
Undergraduate: BA in Mathematics and Philosophy, Brown University
Graduate: MSc in Clinical Biostatistics, Harvard University School of Public Health
Medical: MD, Brown University School of Medicine, 1993
Fellowship: Plastic Surgery, Johns Hopkins University, 1999