Roslyn Heights Ultherapy Doctors and Reviews
Roslyn Heights Ultherapy cost
Average cost in US: $2,725
Average cost in Roslyn Heights: $3,150

Roslyn Heights Ultherapy reviews
81% of Roslyn Heights reviewers said Ultherapy was worth it
Featured Doctors

RealSelf Sponsors must meet eligibility requirements to qualify as a featured doctor.

Kevin Tehrani, MD, FACS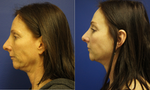 Try non-invasive skin tightening
Call Dr. Tehrani (516) 537-9562
Joshua L. Fox, MD
Non-Surgical Skin Tightening
Special Offers! Call (646) 600-5252

Pamela Gallagher, MD

Refresh and rejuvenate your skin
Call Dr. Gallagher (516) 342-4387
Join RealSelf
Join the world's largest cosmetic surgery community.