Westfield Mini Lift Doctors and Reviews
Average cost in US: $6,575
Average cost in Westfield: $6,575

100% of Westfield reviewers said Mini Lift was worth it
Featured Doctors

RealSelf Sponsors must meet eligibility requirements to qualify as a featured doctor.

Michael Sternschein, MD
Refresh and rejuvenate your look
Call Dr. Sternschein (201) 425-0505
Bruce Genter, MD

Non-Surgical & Mini-Facelift Options
Ask Dr. Genter (215) 688-5994
Jeffrey B. Wise, MD, FACS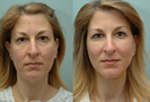 Correct facial lines and sagging
Call Dr. Wise (973) 333-4413
Join RealSelf
Join the world's largest cosmetic surgery community.