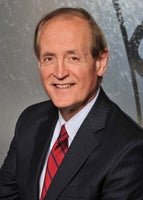 William H. Huffaker, MD
Specials and Deals
Free Botox or Latisse with Allergan Implants
11 reviews
74 Expert Answers
17300 N Outer Forty Road, Suite 300
Chesterfield
,
MO
63005-1364
About William H. Huffaker, MD
William H. Huffaker, MD practices in Chesterfield at St. Louis Cosmetic Surgery & Medical Spa as a Plastic Surgeon, board certified by American Board of Plastic Surgery. Dr. Huffaker was invited to join RealSelf in 2009, and has achieved "Distinguished Member" status. The doctor has 34 years of experience providing cosmetic and aesthetic medical services, and is a member of American Society for Aesthetic Plastic Surgery (ASAPS), American Society of Plastic Surgeons (ASPS) and Fellow, American College of Surgeons (FACS). Dr. Huffaker has hospital affiliations at St. Lukes Hospital, Progress West, Barnes West.
See Dr. Huffaker on Twitter
Featured Patient Reviews
Posted by CafeRicciGirl
Mommy Makeover
Dr. Huffaker...is spectacular, he changed my life!! You can feel his calm confidence from the moment he walks in the surgical suite and it is the most reassuring thing imaginable when you're nervous. He is definitely a body artist. He remade my whole body and I'd do it again in a heartbeat!
Posted by Jennyfire
I chose Dr. Huffaker after reading several reviews. I met him for the consultation and immediately felt I was in good hands. The most important thing in selecting your doctor for this procedure is to feel comfortable, and to feel like you can tell them exactly what you want and exactly what you don't want. The choice to move ahead with my augmentation took time, and quite frankly, guts. I had my consultation with Dr. Huffaker and once you get over the initial "omg, some stranger is gonna be looking at me when I don't even like looking at myself," it's totally worth it. Before choosing Dr. Huffaker, I read several reviews and one woman described him as "an artist." Which is exactly right. He took time, talked to me about what I wanted or thought I wanted, and chuckled when I said "I really don't want to go bigger, I just want them to be the same size!" His bedside manner is wonderful, and he is so patient and willing to answer questions no matter how silly they are. The only con I can say about this surgery is bra shopping and swimsuit shopping take some getting used to. The healing process takes time, and you have to be patient. If you get freaked out about something, Dr. Huffaker and his staff are just a phone call away to reassure you. I had to call a couple of times and Angie (one of the assistants) happily put my mind at ease. The entire experience has been absolutely worthwhile; not only does Dr. Huffaker make it so, but also the entire staff.
Posted by jellybean41
Dr. Huffaker is the kind of doctor you wish you could go to with every medical issue - his kindness, humor, and expertise are apparent in your very first meeting, and it continues through the whole process. You can tell he LOVES what he does, which makes a world of difference in any profession, but especially when you are contemplating elective surgery. From the fabulous ladies who work at the beautiful office, to his nurse, Angie, who is amazing, to his presence at the surgery center, you will feel relaxed, and in great hands. He really is an artist, as others have stated, and he really is one of a kind.....
Posted by jfitness
Recommended from many friends. The outcome has been spectacular! Choose your surgeon well as that makes a big difference in how you feel. My surgeon made me feel extremely confident that the procedure had very minimal risks and I would be glad I did it! And as an older women, I love my new breasts! It has made me feel more confident and happy! I wish I would have done it 10 years ago. Dr. Huffaker, with the St. Louis Cosmetic Surgery center did an excellent job with my procedure. The staff there are warm and welcoming. Could not have asked for a better experience. If you are contemplating surgery, talk to your surgeon as I did and they will help allay all your anxiety and worries.
Posted by Kellieb79
I have been a patient of Dr. Huffakers for over ten years. When I first met with him, I was modeling and running for Mrs. America after having three children. I needed to feel confident again about my body. And quick! From the time you enter the doors of their beautiful office, you are treated like royalty! After your surgery, you even receive a gift certificate to use in their spa, which is fabulous!!!! I am very comfortable with him, even when I wasn't "fixed" yet with my breast exposed. He makes you feel beautiful already & then he does an amazing job getting you where you want to be!!! I have had a few different procedures done with him and every time, he delivers!!! He really cares about his patients. Even after not being in his office for 5 years, when I returned, everyone, including him, remembered me :) Now that I am older, I want to downsize, and would go nowhere else but back to him! I am super excited about it, not one nervous thought because I know I am in the best of hands!
Posted by franklin4233
I did some research online and saw many positive reviews on St. Louis Cosmetic Surgery and deicded that was where I would go for my initial consultation. After meeting the doctor, I chose to go through with my surgery at this clinic. Dr. Huffaker and his staff made the entire experience as great as possible. He really took the time to help me choose an appropriate size of implant for my body and the results were amazing.
Posted by Heather85369
I only wish more doctors were like Dr Huffaker he spent a lot of time listening to what I wanted and making sure the results were perfect! I had been looking to get implants for awhile but was not sure where to go. My friend recommended STL Cosmetic Surgery and I am glad she did! The staff and Dr Huffaker are the best, they made sure I got exactly what I wanted and were so patient and kind. They really care about their patients and it shows.
Posted by books1111
Breast Implant Revision
Dr. Huffacker listened and provided me with exactly what I wanted. A friend of mine had breast augmentation with Dr. Huffacker and was extremely happy with her results and referred me to see him.
Posted by Ash2923
I was very happy with every single aspect! I chose him because he was recommended to me by my sister-in-law whom he did an excellent job on as well! Dr. Huffaker made me feel very comfortable and explained everything I would need to know very thoroughly. Everything went smoothly and I thought I would have a ton of anxiety but I didn't at all! He is super nice and I would recommend him to anyone! I honestly don't think I have any cons in my experience. Thanks Dr. H!
Posted by sharonal
Breast Implants
I give Dr. Huffaker and his staff the very highest rating in EVERY AREA. I cannot imagine a more positive experience from the initial consultation, the surgery, and follow up care.
Posted by dixxie55
Breast Reduction
because he would not repair the fat on breasts
View all reviews
Treatments offered at St. Louis Cosmetic Surgery & Medical Spa
Blog Posts and Articles
Introducing the Mommy Makeover Diaries
While being a mother is one of the greatest joys in life, it is also a hard job—one that takes its toll physically, and mentally. Often mothers find it difficult to put themselves first, preferring instead to spend time, money and energy on their children, or significant others, or their careers. But the old saying "if Mama ain't happy ain't nobody happy" has real truth to it, and many women are beginning to find that taking care of their own needs and having a positive self-image...
Education / Training
Medical: MD, University of Kansas School of Medicine
Residencies:
General Surgery, University of Virginia Medical Center, Roanoke Memorial Hospital
Plastic Surgery, Washington University Barnes Hospital